Scholarships
SMCCCD Scholarships
Each year, the three colleges of the San Mateo County Community College District (SMCCCD) -- Cañada College, College of San Mateo, and Skyline College -- award institutional scholarships to new, continuing, and transfer students. The scholarship awards are based on academic achievement, financial need or specific interests such as clubs, athletics, and service.
Funding for our scholarships comes from contributions to San Mateo County Community Colleges Foundation which ensures that quality, affordable higher education is available to every member of our community. Visit the San Mateo County Community Colleges Foundation website to learn more.
---
Skyline College Scholarships
---
Please Note: External scholarships have their own terms and conditions. The donor determines which academic costs are covered by their scholarship. For example, some scholarships require the cost of books and supplies appear on a student's college invoice and they don't cover items purchased outside of the bookstore. It's important that you review the Terms and Conditions of your scholarship. The Financial Aid Office is a third party, we assist with the disbursement of these funds and follow the requirements set by the donor. We don't have the authority to override these requirements.
---
WTS Foundation 2023 -2024 Strategic Partnership Scholarship
The WTS Foundation fosters the development of students in the transportation field by encouraging bright new professionals and students to undertake careers in the area of transportation. One way to accomplish this goal is by awarding the WTS Foundation Strategic Partner Scholarship(s) to females and those who identify as female, who want to pursue studies in transportation or a related field, providing steppingstones to help plan for a bright future in an exciting, always advancing career. In 2024, four (4) $5,000 Strategic Scholarships are available to be named and presented by the sponsoring companies: HDR, HNTB, Jacobs, and WSP.
Applications are due by Friday, December 15, 2023, and selected applicants will be notified by February, 16, 2024 of their acceptance. Scholarships will be presented at the WTS Annual Conference in New Orleans, Louisiana during the Gala and Awards Dinner on Thursday, May 9, 2024, and attendance is strongly recommended. As part of acceptance of the scholarship, the awardees will receive a complimentary registration to the Annual Conference. In addition, the WTS Foundation will support the applicant in attending the 2024 Annual Conference to receive the scholarship: with support of an economy flight and two-night stay at the conference hotel.
The HDR, HNTB, Jacobs and WSP Scholarships are $5,000 each. The minimum criteria for selection are:
Applicant must be enrolled in an undergraduate or graduate degree program.

GPA of 3.0 or higher.

Currently enrolled in a transportation-related field or have career aspirations in the transportation industry, such as transportation engineering, planning, finance, or logistics.

Plans to pursue a career in a transportation-related field.
---
2024 Jobs for Youth AI Teglia Scholarship Application
The Jobs for Youth Al Teglia Scholarship program provides 20 youth with $2,000 each. Scholars are selected for financial and personal need, and all Scholars demonstrate a clear desire to succeed. The program is open to Jobs for Youth Members ages 16-21 who reside in San Mateo County. Applicants must be at least a junior in high school and have a minimum 2.0 cumulative GPA.
The Al Teglia Scholarship program can help you on your journey toward earning an Associate degree, Bachelor's degree, or vocational training certificate. Our goal is to help you enroll in your next semester of classes and to increase your likelihood of graduating. We believe in you! Apply today and let us be part of your success story.
If you have any questions or concerns about your eligibility, please contact us at jobsforyouth@smcgov.org.
Don't wait, start applying as of now and learn about the application process by visiting https://jobsforyouth.org/scholarships/. The JFY Al Teglia Scholarship application period will close at 1:00 PM on Monday January 29, 2024.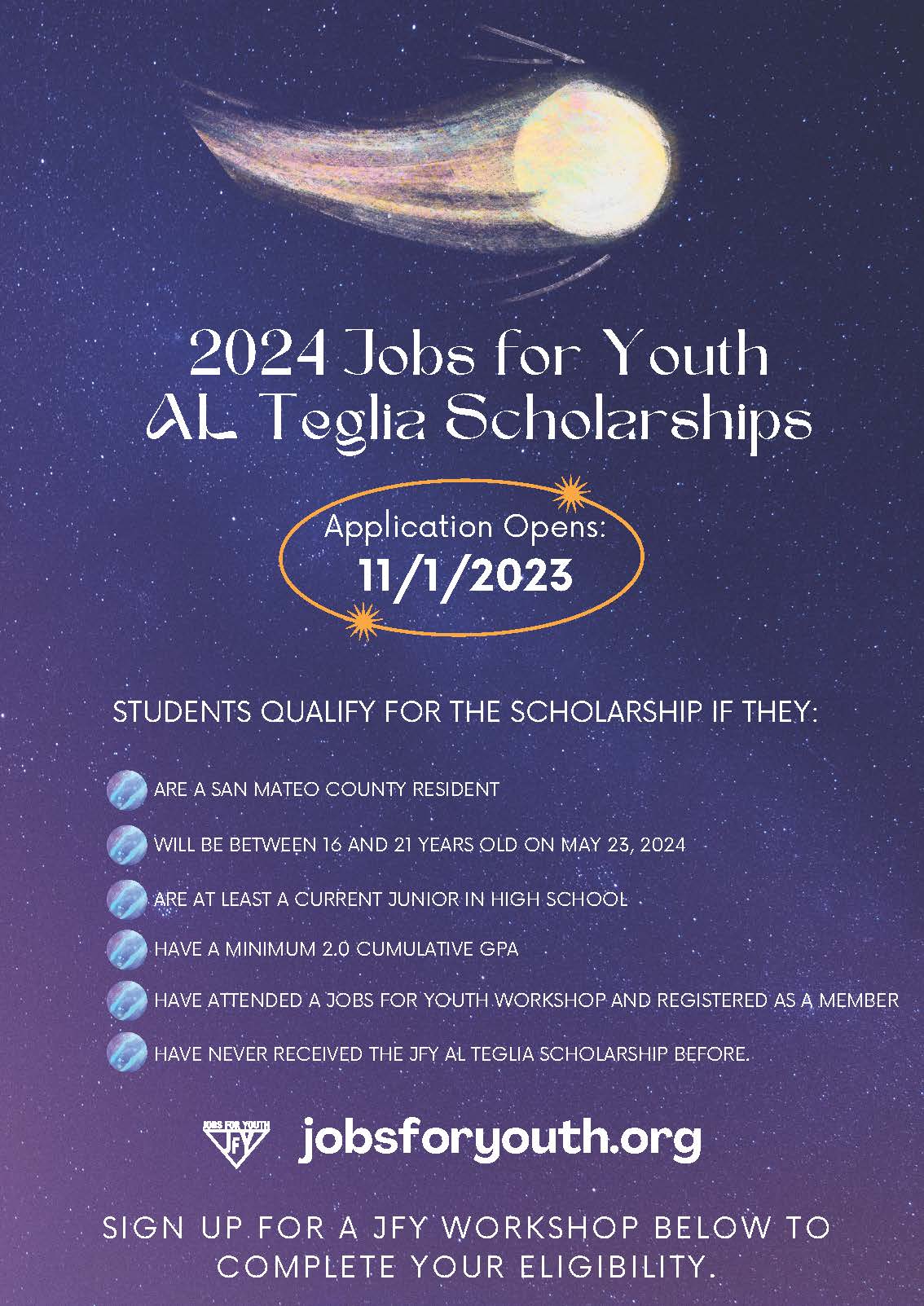 ---
APWA Silicon Valley Chapter Engineering Scholarship
The American Public Works Association is a nonprofit, professional association of public works agencies, private companies, and individuals dedicated to promoting professional excellence and public awareness through education, advocacy, and the exchange of knowledge. The Silicon Valley Chapter of APWA intends to offer two (2) Scholarships (each $2,000) to Community College students who reside in the San Francisco Bay Area and will transfer to undergraduate Engineering program at any accredited 4-year University in 2024. Scholarship recipients will be invited to participate in an APWA meeting within the next few months where they will be treated to lunch and have opportunities to network with engineers in the community.
These scholarships are for Community College students who will transfer to any accredited 4-year University with Civil /Environmental/Construction Engineering major. Scholarships may be based on financial needs.
To be eligible for a scholarship you must:
1. Submit a completed application form indicating a sincere interest and the coursework in Civil Engineering.
2. Provide an official transcript of all academic work showing a minimum GPA of 3.0.
3. Submit one letter of recommendation supporting your Engineering interests/career goal and email directly to mdadala@markthomas.com.
4. Submit a letter of acceptance for an underground Engineering program (Full Time) at any accredited 4-year University within the United States.

Interested students can complete and submit the application, transcript, college acceptance letter, and letter of recommendation via email to mdadala@markthomas.com by May 30, 2024.
Application Deadline is May 30, 2024! Apply for the APWA Silicon Valley Chapter Engineering Scholarship Application.
---
Children of Fallen Heroes Scholarship
To qualify for the scholarship, students must be:
Pell-eligible
Have a Pell-eligible EFC
Must be less than 24 years of age
Or enrolled at an institution of higher education at the time of his or her parents or guardians death
For purposes of the Children of Fallen Heroes Scholarship, a "public safety officer" is:
An individual serving a public agency in an official capacity, with or without compensation, as a law enforcement officer, firefighter, or chaplain;
An employee of the Federal Emergency Management Agency (FEMA) who is performing official duties of the agency, if those official duties:

are related to a major disaster or emergency that has been, or is later declared to exist with respect to the area under the Robert T. Stafford Disaster Relief and Emergency Assistance Act; and
are determined by FEMA to be hazardous duties;
Check Children and Fallen Heros Scholarship Act for more information regarding this scholarship and to view definitions.
---
External Scholarship Opportunities
There are plenty of scholarships available to apply for outside of the district. See a list of scholarships we recommend looking into based on your personal background, interests, and goals.
---
Additional Scholarship Resources