Financial Aid Workshops
Weekly Financial Aid Labs
Need assistance with getting started or completing your Financial Aid Application? Learn more information on applying for the Federal Application for Student Aid (FAFSA), the California Dream Act Application, California College Promise Grant, and Scholarships to receive free money for college. Our weekly Financial Aid Labs are held via Zoom every Monday and Thursday. To register, please click on either day and sign up! A confirmation email will be sent to you shortly.
Financial Aid Lab Scheule
Mondays: 1:30 PM - 2:30 PM Register Monday Session
Thursdays: 4:00 PM - 5:30 PM Register Thursday Session
For additional assistance please visit our website and ask our virtual Financial Aid Assistant.
Note: All lab sessions are conduct in a group setting and are not individual appointments.
Join us at the 8th Annual The Latino College Expo on September 25th at 1:00 PM- 4:00 PM (PST). The expo is designed to help students learn more about scholarship opportunities, filled out the FAFSA or the California Dream Act Application, and attend seminars. Admission is $5.00, click here for more information and to register.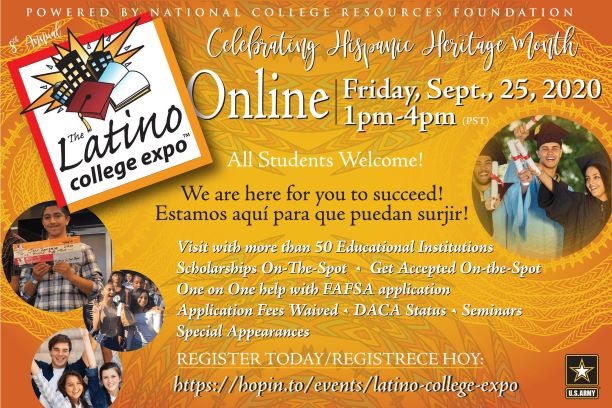 For Assistance with FAFSA/ CA Dream Act Application, please contact: