Art
The Field
Studying art teaches students to communicate ideas and feelings through visual art and design. Art History and Art Appreciation are the study of works of art and their connections to the social and political events of their time, and of the significance of art in society. In order to succeed in the Art Program students will need to develop strong critical thinking, problem solving, and technical skills as well as demonstrate creative ways to express ideas.
The Art Program at Skyline College
Skyline College's Art Program ensures a creative foundation in the visual arts. Enrolling in studio courses provides opportunities to explore the diversity of methods and materials to make art. Drawing, painting, photography, digital arts and other 2-d arts, 3-d media like sculpture and ceramics, studies in film and video, are all accessible to the student. Art History and Art Appreciation courses let you explore art of many times and places, and to find their connections to your own life. We offer an Associate Degree in Art for transfer to four-year institutions.
Career Outlook
An education in art fosters creativity, encourages independent thinking, and develops personal expression. Art is a broad field where one may apply training in visual foundations to a wide range of careers that include architecture, archiving, art conservation/restoration, art direction, art education, art history, art sales, art therapy, digital art, digital animation, commercial photography, courtroom sketching, curating, fashion design, fine art, fine art photography, forensic art, graphic design, illustration, interior design, industrial design, interactive design, museum/gallery direction, theater and movie set design, UI/UX, video game design, videography and cinematography, visual merchandising, web design, window design, and other creative job paths.
EMPTY BOWLS
Help Lessen Food Insecurity @ EMPTY BOWLS

DATE: Monday, March 20th
TIME: 5:00 p.m. - 7:00 p.m.
LOCATION: Building 6 - Fireside Dining Room

TICKETS @ https://bit.ly/EMPTYBOWLS2023
DRIVING DIRECTONS TO SKYLINE COLLEGE
CAMPUS MAP - Building 6 Parking in Lot L and Lot M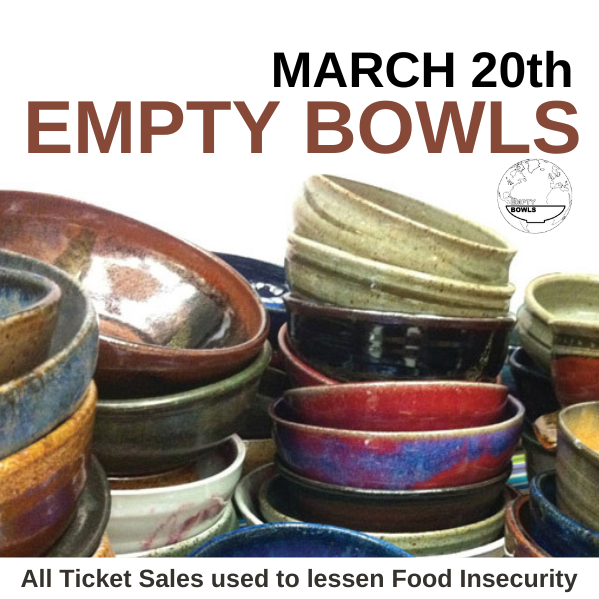 Join us for a Soup Dinner and Entertainment
Featuring Entertainment from Skyline College Dance, Drama, and Music
Go Home with a Handcrafted Ceramic Bowl!

Bowls $15
Soup FREE
Open to All

All Ticket Sales used to Lessen Food Insecurity at Skyline College
"Think Globally, Act Locally"