Behind the Curtain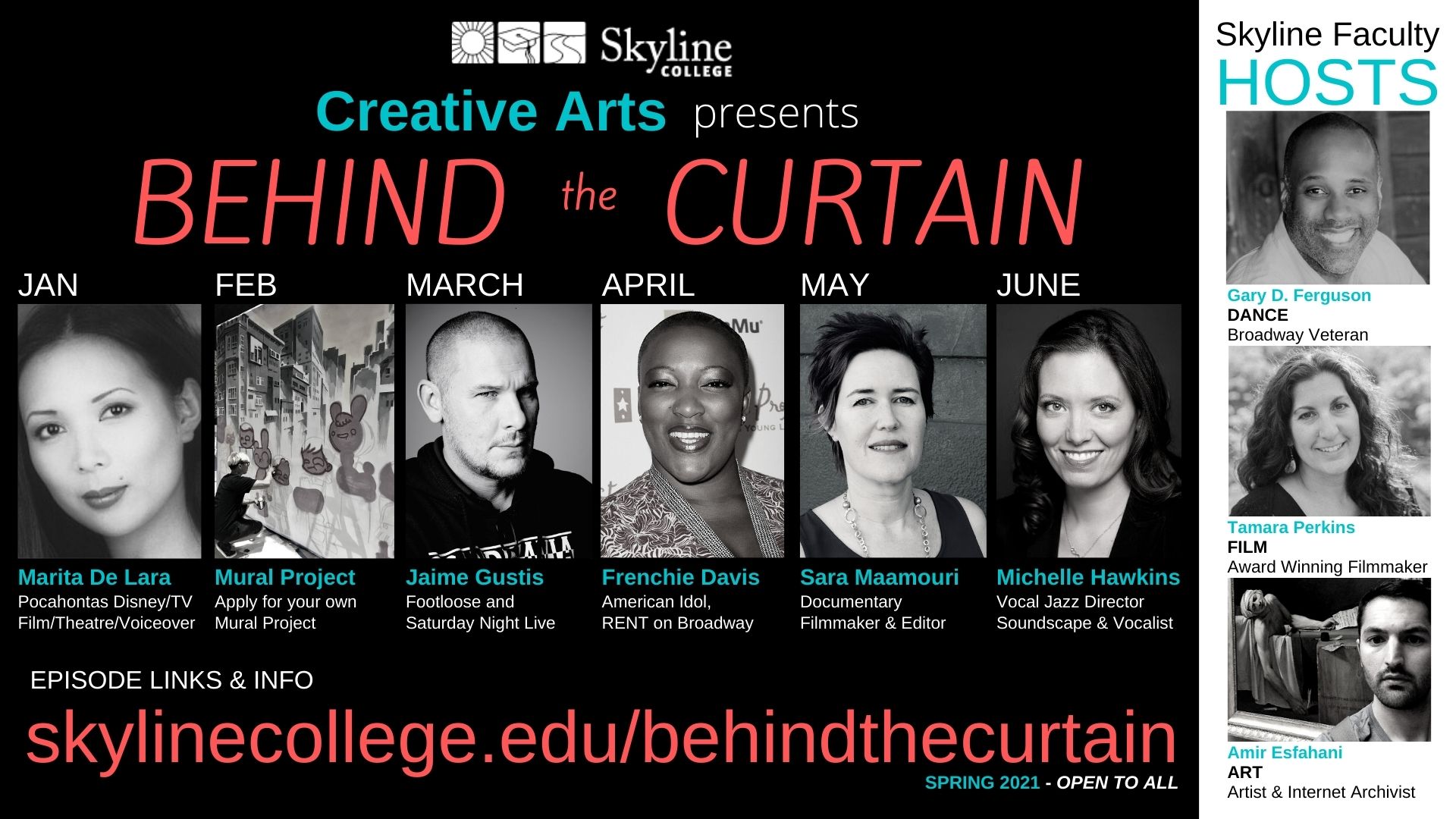 Artistic expression is at the foundation of who we are as a global community. It has the power to transcend and transform.
Skyline College Creative Arts introduces you to creative thought leaders in the visual and performing arts, as they share their personal and professional journeys, providing insight into the creative process, illuminating career pathways, and shining a spotlight on the impact of creative arts in cultural and social movements.
Skyline College takes you inside the revolutionary realm of Creative Arts. Join us, as we go Behind the Curtain.
Behind the Curtain is funded by Skyline College Creative Arts and the generosity of the San Mateo Community College District EEOC Diversity Project Grant.
CONTENT WARNING - Behind the Curtain provides an open space for the critical and civil exchange of information, experiences, and ideas. Some episodes may include language, mature themes, or topics that some may find emotionally and intellectually challenging to engage with, or may be inappropriate for younger viewers. We want "Behind the Curtain" to be a space where anyone can engage bravely, empathetically, and thoughtfully with ambitious content. We ask all viewers to help create an atmosphere of mutual respect and sensitivity when viewing "Behind the Curtain" and to use discretion when deciding whether to include a youth audience.
Episode 1: Marita De Lara - Actor
Episode 2: The Community Mural Project
Episode 3: Jaime Gustis - Dancer, Actor, Singer, and Assistant Director
Episode 4: Frenchie Davis - Singer, Actor, and Activist
Frenchie Davis - American Idol, Grammy-nominated Broadway Star, and Activist.
A graduate of Howard University who was raised on Los Angeles, Ms. Davis first became known for her 2003 stint on American Idol. Following her Idol experience, she refashioned herself as a Grammy-nominated Broadway star and activist.
Frenchie Davis' Broadway and Recording Credits
Rent (2003-2007) singing the powerful solo during "Seasons of Love"
Ain't Misbehavin' (2008) nominated for a 2009 Grammy Award for Best Musical Show Album
Featured in Tony Moran's single "You Are" (2009) - Hit number five on Billboard's Hot Dance Club Play chart
Fairy Godmother in Rodgers & Hammerstein's Cinderella (2010)
The Voice and The Voice Tour (2011-12)
Released her debut single, "Love's Got a Hold on Me" (2012)
Starred in a production of God Doesn't Mean You Get to Live Forever.
Dumbbells, film comedy (2014)
Viral Cover of Fetty Wap's "Trap Queen" (2014)
Stand (By Me) (2015)
Henri in The View UpStairs (2017)
During the rest of the 2010s, Davis divided her time and talent between the stage, studio, and activism. In 2013 she was the featured performer at the National LGBTQ Task Force's 25th National Conference on LGBT Equality: Creating Change where she revealed her commitment to the young people in the community "It's so wonderful to see all the young people here. You all are the reason that I chose to be out. Because it is important that you see people in the public eye who are not ashamed of who they are. It is ok to be true to you." In 2014 Frenchie was outraged by the and spoke out against the verdict in the Jordan Davis shooting. She is also a winner of the José Esteban Muñoz Award from CLAGS: the Center for LGBTQ Studies at The Graduate Center, CUNY. The award is given to an LGBTQ Activist who promotes Queer Studies outside of academia
Episode 5: Stories of Transformation Film Festival
Vital Voices: Transformative Stories of Middle Eastern Women
Featuring Sara Maamouri - Emmy-Nominated Documentary Filmmaker and Editor, and Co-Producer of The Judge and We Are Not Princesses
The "Stories of Transformation" Film Festival provides a forum to celebrate our Skyline College community's rich cultural diversity as well as our district's diverse student enrollment and discuss important issues of diversity, equity and inclusion that promote a shared humanity.
The annual event is designed to foster an open and inclusive campus by sharing films that spotlight the strength and spirit of diverse groups and individuals from the around the world who have experienced their own transformative journeys. We will use art as springboard for exploring social justice issues in a safe space that encourages honest discourse.We are excited to share stories that reflect the ideas of discovery, innovation, and change that are integral to stories of transformation.
The 2021 film The Judge offers a unique portrait of Judge Kholoud—her brave journey as a lawyer, her tireless fight for justice for women, and presents an unfolding vérité legal drama, with rare insight into both Islamic law and gendered justice. In the process, this offers an unvarnished look at life for women and Shari'a. We Are Not Princesses is a documentary film about the incredible strength and spirit of four Syrian women living as refugees in Beirut as they come together to tell their stories of love, loss, pain, and hope through the ancient Greek play, Antigone. This film focuses on the resilient, intelligent, articulate Syrian women picking up the pieces of their lives.
Sara Maamouri, Co-Producer and Editor, is an Emmy-nominated documentary filmmaker and editor who has explored a diverse range of topics for over 20 years. Her work touches on social, educational, and political issues, from a teacher and students performing under extraordinary circumstances (The Music's Gonna Get You Through, 2010) to rebuilding a life in a former war zone (Amal's Garden, 2012). Her most recent films include We Are Not Princesses (2018) and the Peabody Award-winning film The Judge (2017). A multilingual Tunisian educated in New York and California, Sara brings cultural sensitivity to her editing, production, and story development, creating impact-focused narratives to attract and engage rapidly evolving audiences.
Other members of the 2021 Stories of Transformation Film Festival Panel include:
Umaima Ejaz Skyline Student and Editor-in-Chief, Skyline View
Hajer Mkawer President of the CSM Muslim Student Association
Mahsa Tavakkoli an ESL instructor for the Silicon Valley Intensive English Program (SVIEP).
Kathy Zarur, PhD, Associate Professor Art History at Skyline College, is an educator, curator, and conference organizer in the San Francisco Bay Area.
Moderator and Host: Tamara Perkins, Skyline College Film Instructor and award winning documentary filmmaker
Episode 6: Soundscape Vocal Jazz Ensemble
Throughout this extraordinary year Skyline College music director Michelle Hawkins worked with students to rethink and reimagine what it means to be a choral artist. As "storytellers" the group pursued creative ways to share stories that are both aurally and visually impactful. Learning to sing together while apart.
The director of the college's acclaimed Soundscape vocal jazz ensemble matched technology with creativity to produce series of videos showcasing her students' talents. The performances in this video concert reflect the resilience and perseverance of Soundscape and director Michelle Hawkins, and provides a culminating artifact of this singular year.
The Skyline College Vocal Jazz Ensemble (MUS. 485) performs a wide variety of contemporary choral repertoire including jazz, pop, R&B, and world music. They perform at campus concerts, community events, and statewide jazz festivals and competitions including the Cuesta, Columbia and Santa Cruz Jazz Festivals. In April 2017, the Vocal Jazz Ensemble (Soundscape) performed in the New York City Jazz Festival at the Apollo Theater and Carnegie Hall. They won 2nd place and 6 soloist medals at the Reno Jazz Festival 2016. In Spring 2018, Soundscape performed at the American Choral Directors Association (ACDA) Western Division Conference in Pasadena, CA.
Soundscape director Michelle Hawkins is a choral director, arranger, and vocalist. Professor Hawkins also serves on the faculty of the Stanford Jazz Workshop (Palo Alto, CA) where she received the 2017 Outstanding Music Educator Award. She is an active choral clinician and adjudicator and serves as the Chair of Jazz Choir Repertoire and Resources for the California Choral Directors Association (CCDA) and the American Choral Directors Association (ACDA) Western Division. Professor Hawkins holds degrees from the University of Southern California (M.M. in Jazz Studies) and UC Berkeley (B.A. in Music). You may also recognize Professor Hawkins as the voice of "Behind the Curtain".
Soundscape will return to in-person instruction in Fall 2021.
More Soundscape can be found at Skyline College Creative Arts on YouTube