Behind the Curtain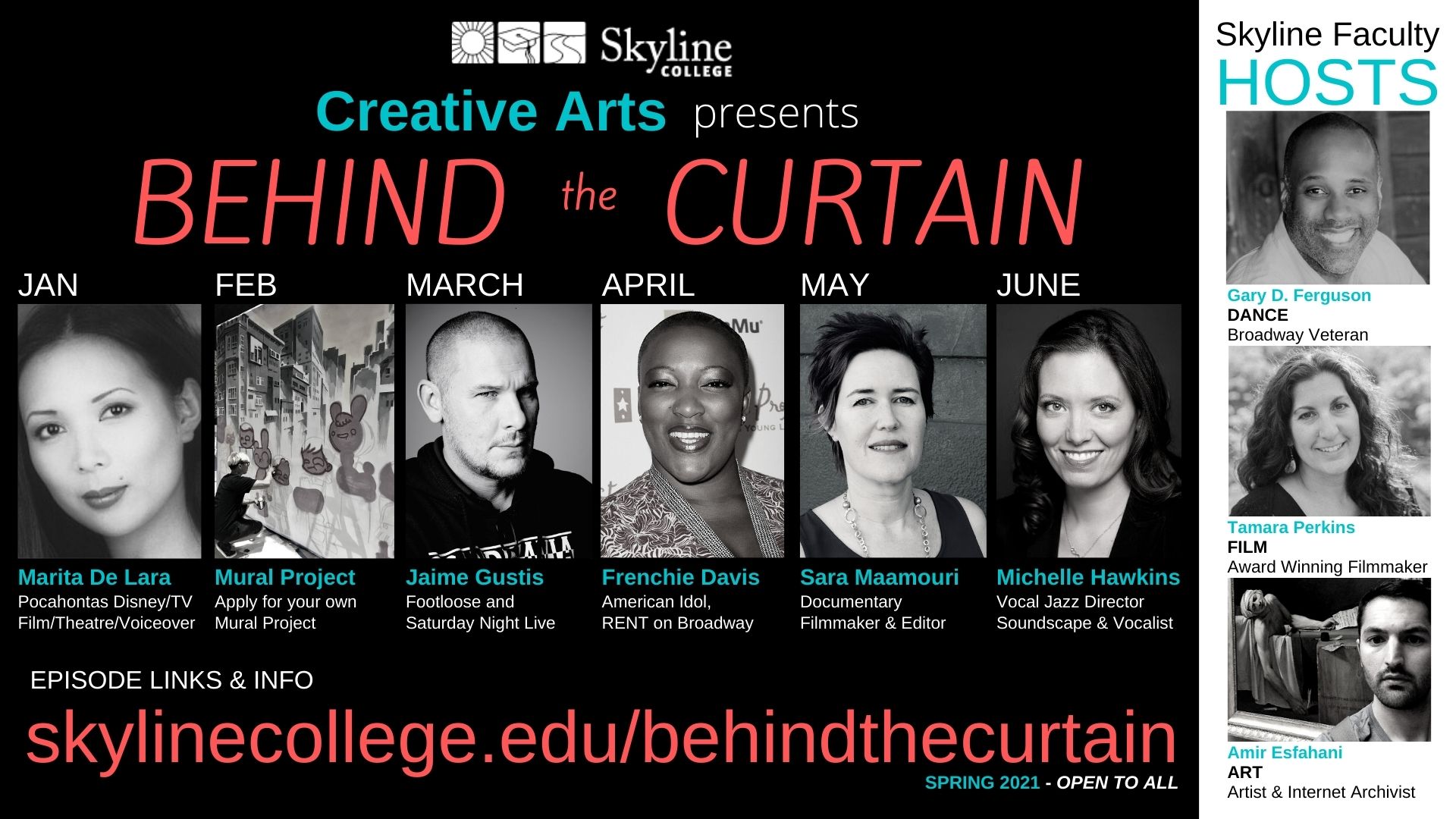 Artistic expression is at the foundation of who we are as a global community. It has the power to transcend and transform.
Skyline College Creative Arts introduces you to creative thought leaders in the visual and performing arts, as they share their personal and professional journeys, providing insight into the creative process, illuminating career pathways, and shining a spotlight on the impact of creative arts in cultural and social movements.
Skyline College takes you inside the revolutionary realm of Creative Arts. Join us, as we go Behind the Curtain.
Behind the Curtain is funded by Skyline College Creative Arts and the generosity of the San Mateo Community College District EEOC Diversity Project Grant.
Episode 1 - Marita De Lara, Actor
Episode 3 - Jaime Gustis Dancer, Singer, Actor, and Asst. Director
Episode 2 - The Community Mural Project
Episode 3 - Jaime Gustis - Dancer, Singer, Actor, and Assistant Director
Jaime Gustis is an actor, singer, dancer, and assistant director. Jaime grew up on the east coast only a train ride away from New York City and Broadway. With his grandmother's encouragement, he learned to dance as a child and especially excelled at tap. He started college at New York University (NYU) to experience a college with more than the arts, and also to be close to audition opportunities. He ultimately left NYU to begin his professional career which included four years with the original Broadway production of Footloose. After a successful performance career, Jaime was chosen for and completed the selective Director's Guild of America two year training program, which led to his current position as Assistant Director at Saturday Night Live (SNL).
Performance Credits
Engine crew member on Where in Time Is Carmen Sandiego? (1997)
Footloose (1998), Original Broadway Production
Trick (1999)
Law & Order: Special Victims Unit (2000)
Sex and the City (2002)
1966 (2005)
Directing Credits
Feral Mix (2015)
Saturday Night Live (2018-2021)
Jaime currently works as an Assistant Director for the Saturday Night Live (SNL) film unit which creates all of the digital shorts on SNL. Outside of SNL, he works with companies and on commercials. His favorite shorts from his work on SNL are the Oscar the Grouch/Joker parody and Friendos.