Behind the Curtain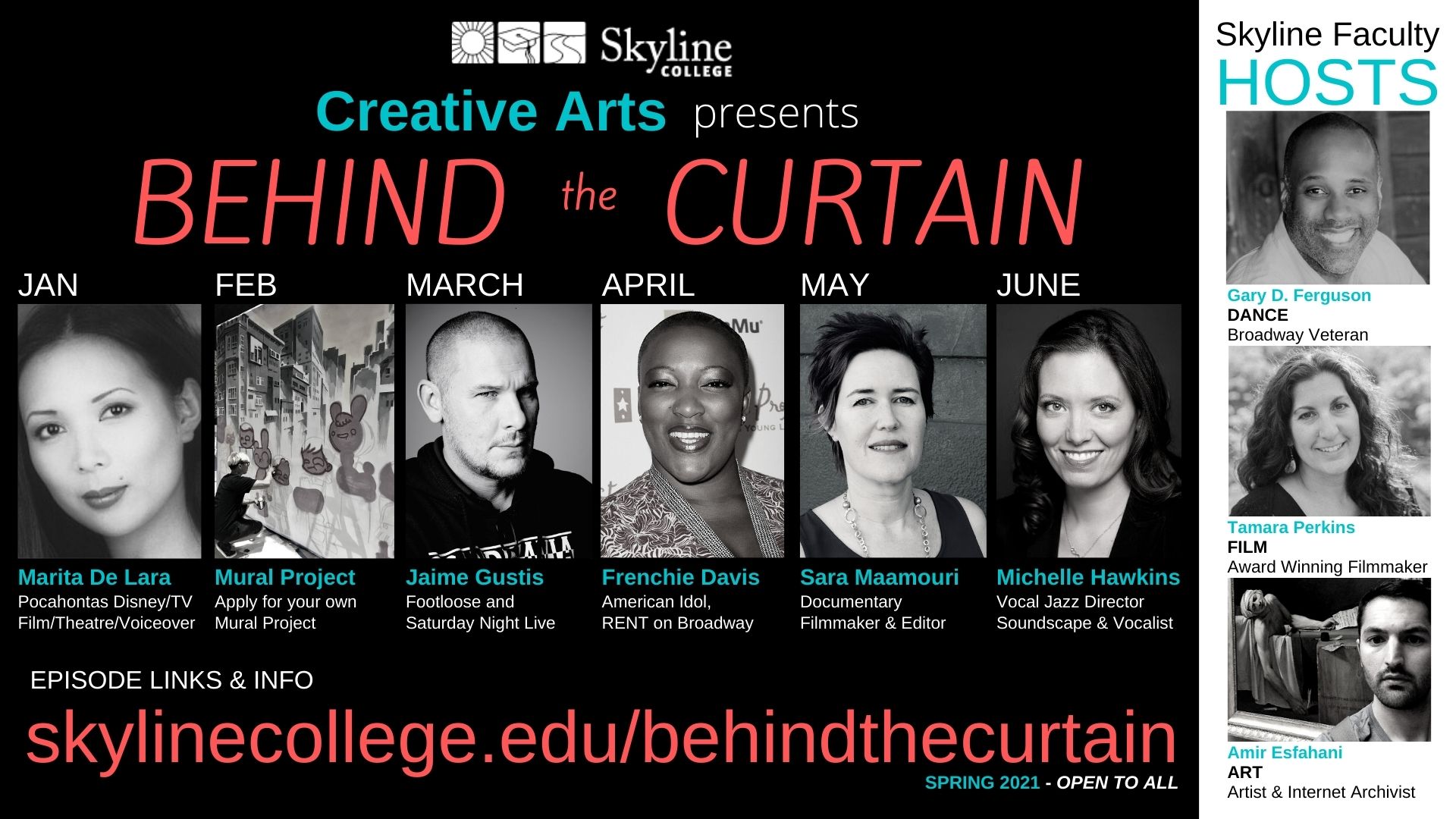 Artistic expression is at the foundation of who we are as a global community. It has the power to transcend and transform.
Skyline College Creative Arts introduces you to creative thought leaders in the visual and performing arts, as they share their personal and professional journeys, providing insight into the creative process, illuminating career pathways, and shining a spotlight on the impact of creative arts in cultural and social movements.
Skyline College takes you inside the revolutionary realm of Creative Arts. Join us, as we go Behind the Curtain.
Behind the Curtain is funded by Skyline College Creative Arts and the generosity of the San Mateo Community College District EEOC Diversity Project Grant.
Episode 1 - Marita De Lara, Actor
Episode 2 - The Community Mural Project
Episode 2 - Behind the Curtain Community Connection Spotlight
The Skyline College Community Mural Project
History
The Skyline College Art Program facilitated several community partnerships resulting in mural projects including the Daly City Electrical Box Project. In each partnership, Skyline College students served their communities by creating art, while providing visual representations of themselves.
These successful projects generated further requests for mural projects from a variety of San Mateo County communities. To propel the projects forward, the art program developed the Community Mural Project, a sustainable model to ensure ongoing service-learning endeavors, allow our students hands-on mural experience, and reflect the college commitment to community partnership.
Our community-driven mural-making projects are a vehicle for education and cultural expression that build on our guiding principles of community engagement, and promoting, encouraging and fostering diversity, equity and belonging.
Community Connection Spotlight
This Behind the Curtain - Community Connection Spotlight Video highlights the Thomas Edison Elementary School mural, a collaboration between a local Daly City, California elementary school and Skyline College's Community Mural Project. Students worked closely with the Faculty and Administration at Thomas Edison Elementary to create a large-scale mural for their kindergarten classes. Every step of the mural had to be planned and approved by Thomas Edison Elementary School, giving the students firsthand experience with the real-life design process. The end result was an "Alphabet" wall that enlivened the outdoor play area, while providing teachers and students with a visual learning opportunity.
The Future of The Community Mural Project
The Community Mural Project will continue to reflect a deep engagement with the community we serve through collaboration with schools, cities, civic and arts organizations.
The Skyline College Community Mural Project is seeking future mural projects for consideration. Submit your application here
For more information, contact socialsci-creativearts@smccd.edu.