Behind the Curtain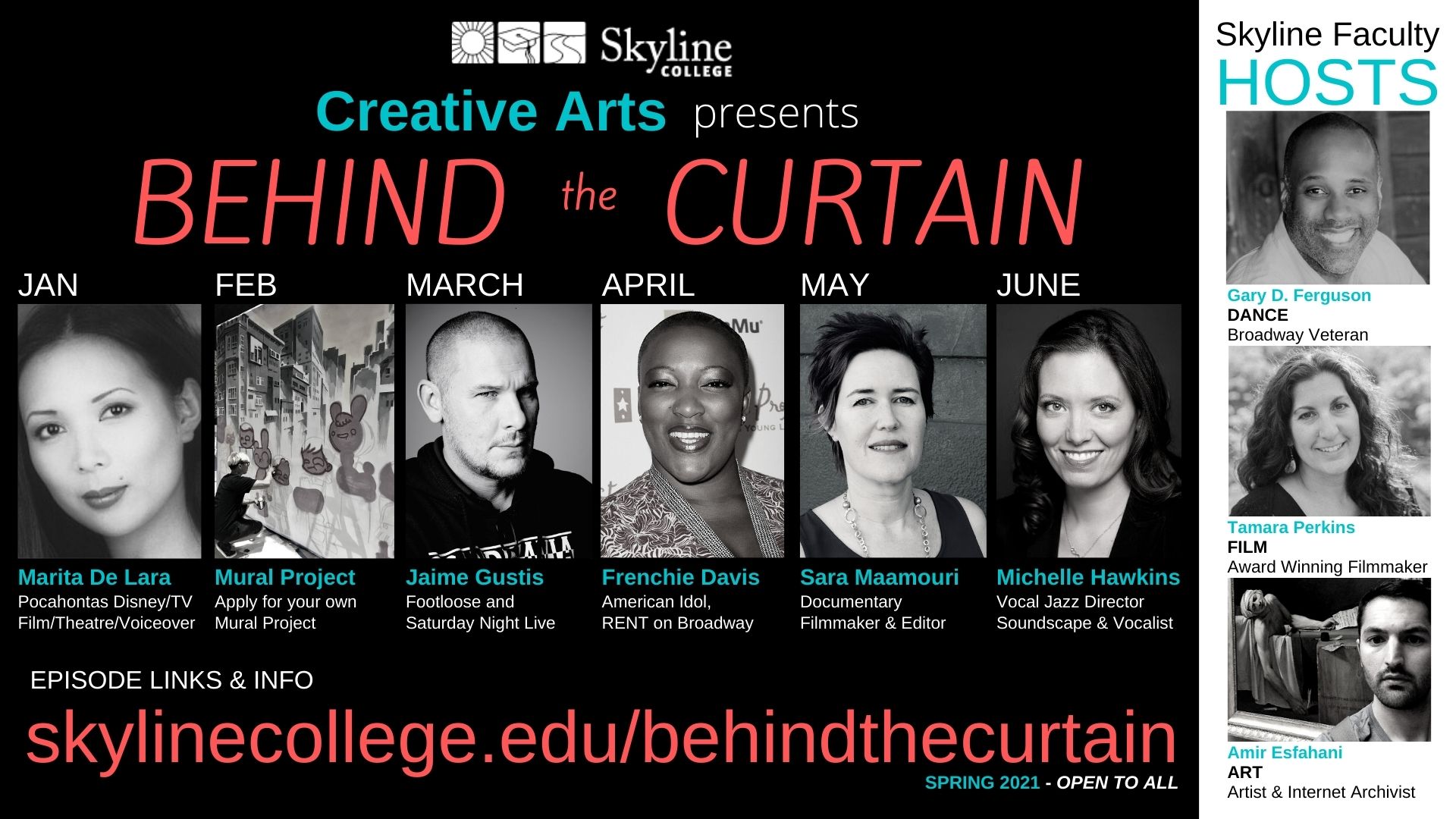 Artistic expression is at the foundation of who we are as a global community. It has the power to transcend and transform.
Skyline College Creative Arts introduces you to creative thought leaders in the visual and performing arts, as they share their personal and professional journeys, providing insight into the creative process, illuminating career pathways, and shining a spotlight on the impact of creative arts in cultural and social movements.
Skyline College takes you inside the revolutionary realm of Creative Arts. Join us, as we go Behind the Curtain.
Behind the Curtain is funded by Skyline College Creative Arts and the generosity of the San Mateo Community College District EEOC Diversity Project Grant.
CONTENT WARNING - Behind the Curtain provides an open space for the critical and civil exchange of information, experiences, and ideas. Some episodes may include language, mature themes, or topics that some may find emotionally and intellectually challenging to engage with, or may be inappropriate for younger viewers. We want "Behind the Curtain" to be a space where anyone can engage bravely, empathetically, and thoughtfully with ambitious content. We ask all viewers to help create an atmosphere of mutual respect and sensitivity when viewing "Behind the Curtain" and to use discretion when deciding whether to include a youth audience.
Episode 1: Marita De Lara - Actor
Episode 3: Jaime Gustis - Dancer, Actor, Singer, and Assistant Director
Episode 4: Frenchie Davis - Singer, Actor, and Activist
Episode 8: Drama Showcase - Director, Erin Gilley
Skyline College Drama (DRAM. 200, 201, 202) develops performance skills through emotional and sense memory techniques; physical exercises designed to increase body awareness, authentic expression, and control; and vocal exercises focusing on articulation, projection, and creative expression. Students acquire confidence, range, and subtlety through improvisation, monologue, and scene work. Gain insight and inspiration through text-based critical analysis. Advance classes include a deepening of emotional authenticity and refinement of creative expression as an ensemble player and exploration of the actor's place in the context of the play. The Soring Showcase provides a venue for students to share and further hone their performance skills.
Drama instructor and director Erin Gilley is a Theater Director who specializes in immersive theatre, digital/theatre hybrids and new writing; and a Video Production Designer who is passionate about experimenting with form and creating projections that seamlessly blend in with the world of the play. Her work work ranges from San Francisco's Fringe to London's West End. In San Francisco she founded the theatre company elastic future whose productions are often performed in unusual spaces and combine theatre with live music, visual art, fancy dress parties, and multi-media.
After studying theatre as an undergraduate at Princeton University where she was awarded the senior prize for directing, Erin completed an MFA at Birkbeck, University of London.
Episode 9: Gary Ferguson

- Dancer, Choreographer, Director, and Producer
Gary's journey began as a student on scholarship, with the Alvin Ailey and Gus Giordano Dance Companies. It was here that his passion for dance, music, theatre, and movement evolved. That passion has continued to grow and burn.
As a dancer Gary performed on Broadway and in national and international tours including:
Cats, Broadway/National Tour/Germany Dir/Chor Trevor Nunn/ Gillian Lynne
CHICAGO, National Tour Dir/Chor Walter Bobby/Ann Reinking
Westside Story, National Tour Dir/Chor Jerome Robbins/Alan Johnson
The Whos Tommy, National Tour Dir/Chor Des McAnuff/Wayne Cilento
The Hot Mikado, West Coast Tour
The Radio City Christmas Spectacular
He currently uses his impressive talents as an Artistic Director and Choreographer, recently acting as the Artist-in-Residence and Director for the Skyline College Spring Musical while also lending his skills to many other Bay Area theatre companies.
Gary is an active member of NDEO (National Dance Educators Organization), Actors Equity Association, Screen Actors Guild, and AGVA (Association Guild of Variety Artists) and holds a Bachelor's degree in Arts Management with an emphasis in Dance Management and M.B.A. in International Business.