What is Intergroup Dialogue?
Faculty, Staff & Adminstrators Session
October 9-13, 2023* | 2 pm - 5 pm PST | via Zoom
Clicking the registration link redirects you to authenticate with your SMCCCD credentials. The event has 5 parts: you must click the red "Request" buttons for each day to be added to the roster for each session.
Upon completion of all sessions, you will be credited 15 hours on your VRC transcript.
*Session is limited to 20 participants. Participants must attend each session
---
Intergroup Dialogue (IGD) is the critical framework for the transformational anti-racist work at Skyline College.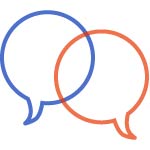 DIALOGUE is a form of communication that encourages people with differing ideas to build meaningful relationships across differences through building generous and empathetic listening skills with the goal of creating a more socially just world. Dialogue is about adding to the common pool of knowledge.
INTERGROUP DIALOGUE uses dialogic principles to focus conversations on how people with differing social identities have differential access to social power, privilege and cherished resources, and thus view the world, and potential action for social change/justice differently. Intergroup Dialogue encourages collaborative action for change.
Mission Statement
Skyline College will utilize IGD as the critical framework to co-create and build a campus grounded in an ethic of love. We will work towards dismantling barriers of racism, sexism, and marginalization by:
Holding spaces for dialogue centered on solidarity, community collaboration and positive collective change
Bringing stakeholders together to use dialogic problem solving on issues and topics concerning the Skyline community
Cultivating meaningful engagement across cultural and social divides to foster learning about inequities and social responsibility
Fostering an understanding of shared struggle and identity through storytelling
Vision
Inter Group Dialogue (IGD) is committed to moving Skyline College forward: helping students, professional staff and faculty pursue social justice through educational engagement and dialogical pedagogy.
Intergroup Dialogue:
happens when people with different perspectives converse in order to seek mutual understanding in the context of inequality and discrimination.
requires learning to listen generously, asking questions of others, sharing one's own views and experiences, and committing to understanding the perspectives of others, even if not agreeing. It asks participants not to try to change others, but to allow themselves to be changed by what they hear.
is about listening to other viewpoints, gaining new insights, perspective taking – seeing the world through other's eyes. It asks you to hold multiple and competing perspectives at the same time, and to act beyond discussion to challenge bias.
is a style of interactive communication that seeks shared understanding of the roots of people's ideas, rather than casual exchange of ideas or debate.
[Source: Insight, The Program on Intergroup Relations - University of Michigan]