CTTL
The CTTL on-campus office will be closed beginning March 17, 2020 until further notice. All support will take place virtually. Although we will not be on campus, we are here to support you!
To stay in touch with the CTTL, please email: skylinecttl@smccd.edu. You can also email any of the staff listed on this site and we will reach out to you as soon as possible. We will be answering emails and individual messages from 8am - 6pm throughout the day. Any outreach that comes in after 4pm will be answered the following business day. From Wednesday (3/18) on, we will provide virtual support via Zoom for Skyline College faculty.
During the month of July, CTTL Open Office Hours will be held via Zoom during the following times
Monday & Wednesday: 4-5pm

Tuesday & Thursday: 11am-12pm

Join all our Zoom Office Hours at: https://smccd.zoom.us/j/6056805728
Monday Morning Coffee Chats - July: Anyone else having a problem keeping days straight? We're with you! Start your week with us at a CTTL Monday Morning Coffee Chat! So grab a coffee/tea/water and a pastry/toast/egg and meet with us on Zoom to connect. Stop by and join even if only for a few minutes...We look forward to staying in touch!
Join Coffee Chats on Mondays in April from 930-1030am at https://smccd.zoom.us/j/466086965
What a semester Spring 2020 turned out to be! The rapid move to remote teaching in response to the COVID-19 pandemic shelter-in-place orders presented challenges, opportunities, and learning experiences to all. The CTTL team has been on the ground and over the ethernet supporting our community in the transition to online teaching and learning. In the summer release of our newsletter, Impact. Innovate. Inspire., we share tips, resources, and testimonials from campus colleagues about delivering online instruction as well as considerations and guidance for Fall 2020 instruction. Explore and enjoy this newsletter by clicking on the collapsible tabs for more details on each of the informative and exciting articles at https://bit.ly/CTTLimpactSU20

Check out our CTTL Calendar for more upcoming virtual workshops, open labs, and events!
We are also keeping up a resource site, http://instructionalcontinuity.smccd.edu; we encourage you to visit it regularly for updates about scheduled virtual events, growing resources, and ideas for furthering community in your course.
In support,
The CTTL Team
---
About CTTL
Skyline College's Center for Transformative Teaching and Learning (CTTL) serves as a hub of innovation and professional development where faculty, staff, and administrators will find resources and opportunities that will help them strengthen student learning, engagement, support, and success. Through the integration of pedagogy, technology, and innovation, the Center provides an environment and tools that support the transformation of teaching and learning needed to empower and transform a global, diverse community of learners.
The CTTL includes The Learning Space, where Skyline College employees come to experiment with the latest educational technologies and engage in conversations about teaching and learning, best practices, professional development for Classified staff, and other related topics.
What's Available at the Center
A series of regularly scheduled Workshops on How To's, Best Practices, Trends in Education, and Professional Development opportunities.
One-to-One assistance with WebAccess, use of Smart Classrooms, and other instructional software and technologies.
A Critical Conversations Lounge where faculty can engage in discussions about teaching and learning while enjoying comfortable chairs, calm and beverages.
An online Video Library with short how to's and copies of webinars and presentations affecting education.
An experimental classroom, The Learning Space, where workshops are hosted and a place where faculty can come and experiment with classroom technology.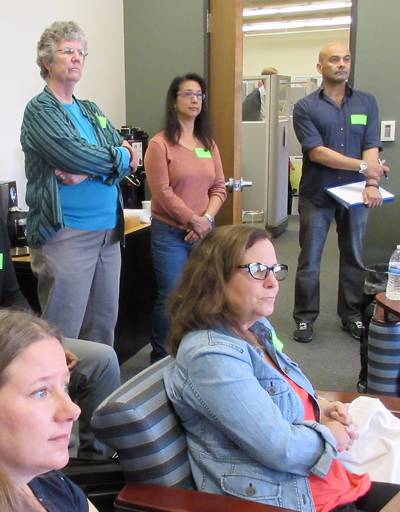 Vision Statement
By enhancing the experience of teaching and learning through innovation, technology and pedagogy, the Center for Transformative Teaching and Learning supports the Skyline College vision of inspiring a global and diverse community of learners to achieve intellectual, cultural, social, economic, and personal fulfillment.
Mission Statement
The Center for Transformative Teaching and Learning (CTTL) is the foremost provider of educational and instructional resources for faculty, staff and administrators at Skyline College. In short, the Center is a "hub" of innovation where the transformation of teaching and learning occurs. Through the integration of pedagogical and technological instruction, as well as the promotion of best practices, collaboration, research, inquiry and reflection, the Skyline College community enables student success to empower and transform a global community of learners.