STEM Center
About the STEM Center
The Skyline College STEM Center brings together academic and student support services for students taking science, technology, engineering and math courses.
The center supports student success by ensuring students have access to resources such as academic tutoring, counseling services, a resource depository for STEM pathways and transfer, a hub for internships and work based learning opportunities, as well as a place where students and staff can collaborate and build a community and supportive connection.
This STEM Center was brought to campus by a U.S. Department of Education, Title V, Developing Hispanic-Serving Institutions Program "Strengthening Pathways to Success in STEM" grant awarded in 2018.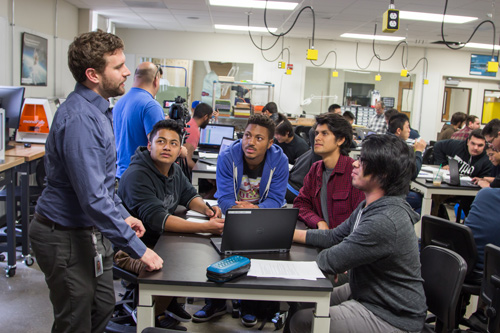 Resources, Events, & Clubs
STEM Center Academic Support
Meta Majors: Science, Technology, and Health
Learning communities
Info on External STEM Opportunities
Speaker Events & Workshops on Transfer, Internships, and Career
Join the Discord Server!
Did you know the STEM Center has an official Discord server? Join the Discord server and be a part of the STEM Center community! The discord server will serve as a community hub for the STEM Center to bring us all closer together while maintaining physical distance during campus closure. The Discord server is used for:
Announcements for STEM Center programming like Science in Action
Connecting with members of the STEM Community (faculty, staff, & peers) and joining various virtual community events to network with faculty, staff, and students
Updates about the Skyline campus and so much more!