Framework
The SLOAC Framework document was updated in 2021 to reflect the ways that assessment has been integrated into the campus infrastructure. Like previous versions, it is intended to provide a "framework" with which to implement the SLOAC process into our existing practices.
Part One provides information about Skyline College's approach to student learning outcomes and assessment.
Part Two provides guidance in writing instructional SLOs.
Part Three provides guidance on creating assessment plans, analyzing and acting on results, and generating reports.
Part Four provides guidance in student services outcomes and assessment.
Download SLOAC Framework, Version Five .
For step-by-step directions on how to engage in assessment, please access the Steps, Tips, and Worksheets page.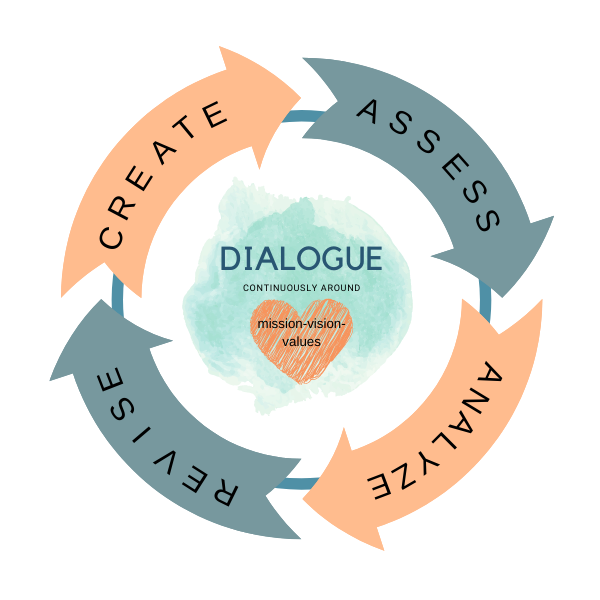 Skyline College's Student Learning Outcomes Assessment Cycle
Skyline College's Student Learning Outcomes model represents the College's commitment to institutional effectiveness, whether at the course, student services, program or institutional level. By providing necessary evidence grounded in dialogue to guide effective decision-making, authentic assessment promotes continuous improvement at all levels. Each level itself begins with planning, continues through implementation and finally assessment. The assessment process is not complete until the results are analyzed and acted upon, if need be. The completion of one cycle will have an effect on the process and signal the launch of a subsequent cycle. It is this type of continuity among all stages of the cycle that helps to build on strengths or improve weaknesses through a reflection on the cycle as a whole.
The evolution of the SLOAC initiative took place over many years, beginning in 2005, and with considerable input from many so as to ensure a meaningful, sustainable process. Ultimately assessment serves as a vehicle through which faculty, staff, and administrators can best facilitate student learning and success.