Disbursement
Financial Aid Disbursement Process
All financial aid funds are disbursed on scheduled dates each term. Federal grant aid (Pell Grant, Supplemental Educational Opportunity Grant) disburses twice each term with 50% of the scheduled award being disbursed on or after each scheduled date based on the student's enrollment level and program eligibility. Federal Direct Loans are also disbursed in two payments based on the approved loan period. Cal Grant funds are disbursed in a single payment each term on the second scheduled disbursement date of the semester.
Deduction of Fees
Financial Aid (grants, federal student loans, and scholarships) will first be used to reduce current institutional debt you owe to Skyline College, College of San Mateo, or Cañada College, including enrollment fees, health fees, and nonresident tuition. If your financial aid is more than the amount owed, you will be paid the remaining balance.
Options for Receiving Your Financial Aid Payment
During the enrollment process, students can choose one of two preferred methods for receiving financial aid or scholarship funds from the college: (1) having funds transferred via direct deposit (also called ACH Transfer) to their existing checking or savings account, or (2) having funds loaded directly to the SMCCCD Disbursement Prepaid Card .
(1) How to Enroll for SMCCCD Direct Deposit (ACH Transfer)
Go to www.enroll.moneynetworkedu.com and click "Enroll Now"
Provide your bank or financial institution account information

Full Name on account
Bank/Institution Name
9-Digit Routing Number
Account Number
Account Type

Select your disbursement method and agree to terms & conditions
Confirm your ACH Information and submit
It may take up to a week to validate your direct deposit account number. While this process is pending, if you have a financial aid refund, it will be mailed to you in a paper check.
(2) How to Enroll for the SMCCCD Disbursement Prepaid Card
Go to www.enroll.moneynetworkedu.com and click "Enroll Now"
Enter your Skyline College Student ID (G Number), date of birth, and your '@my.smccd.edu' email address.
Select your disbursement method and agree to the terms & conditions.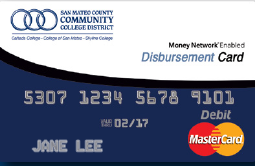 Benefits of SMCCCD Disbursement Prepaid Card
It's not a credit card, so you can only spend what's available on the card.
Delivers fast and secure access to your financial aid balance or scholarship. You don't have to worry about losing a check.
Access account information anytime and anywhere using the Money Network® Mobile App (available for download at the App Store & Google Play).
Withdraw money at no charge when using Allpoint® Network ATMs, America's largest network of surcharge-free ATMs and download the Money Network® Mobile App.
No overdraft, minimum, or monthly fees.
As an added service, San Mateo Credit Union will also provide free ATM access for card holders.
To learn more about the SMCCCD Disbursement Prepaid Card features & benefits, please visit www.mycampusfunds.com.
Paper Checks
If you do not choose one of the two funding options, your funds will be sent to you by paper check. Paper checks may take up to an additional 7 to 10 days after your financial aid funds are disbursed. All checks are mailed to the student and will be sent to your address in WebSMART.
Please note that if you have more than one address type, the Mailing Address has priority and will be used instead of the Legal Address. It is your responsibility to ensure your address information is correct at all times.
Paper checks are not only the slowest method for you to receive your funds but also the least secure due to the risk of loss, theft and fraud. Sign up to receive your funds electronically.