Student Testimonials
---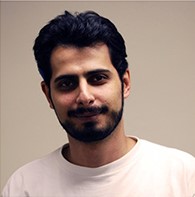 Ahmad
Ahmad came to the program with an AS in Electrical Engineering but no training or experience with networks. After completing the Network Engineering Program, he passed the CCNA and CCNP certification exams (and he's also passed the written CCIE exam). Ahmad is now working as a network engineer at Stanford Hospital and Clinics.
"The experience I had in the lab was amazing. I had everything I need in the lab to experiment and study, which made me more interested to learn. All the teachers I had at Skyline were unbelievably caring and passionate about their job. They all do their best to make sure the students learn passionately and show them how they can apply what they learn to the real life.
Read the book, and use the lab as much as you can...the program was very helpful to me to graduate and get a good job in a short period of time. The program made me realize that Computer Network is what I love and enjoy to do. And now I have a job as a network engineer after 3 years of being in the program."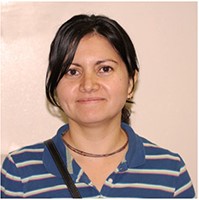 Ana
Although Ana has a BA in Business Information Systems, she had no IT experience prior to the Network Engineering Program. Ana now has an AS Degree in Network Engineering. Ana manages the Microcomputer Lab at Skyline.
"I became interested in networking after I started working at the Microcomputer lab. Working at the lab encouraged me to get more involved in technology. I also have to interact with technicians about computer and network issues for the lab so I thought understanding how networks and computers work will help. I am using the knowledge I have learned from the program to identify or resolve computer or network problems. The program is a great experience.The hands-on training was a great practice to have a better understanding of how networks work.
I had a terrific experience with all of my teachers. They are very professional, easy to approach and very knowledgeable. It was really great to have this opportunity since other colleges or universities don't offer these resources."
Anthony
Anthony came to the program without IT experience and is now graduating with a Network Engineering AS degree and is transferring to a four year college to major in Computer Science.
"The Networking Program has a lot of interesting students with IT experience who are eager to help one another grow and learn. The professors bring their unique industry work experience to prepare students for certifications and employment. They are able to instruct a wide range of students from just starting out to the IT experienced. This program embraces teamwork where teachers and students work together to complete hands-on labs, which prepares students for real-life IT employment.
I have created a network of people through the course of the program that I can depend on for advice and guidance throughout my IT career. The program has given me the confidence and skills to succeed in the IT field."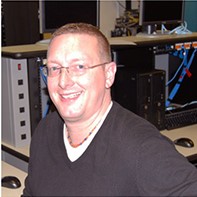 Brian
Brian has a BA in Computer Science and Sociology; he works as an IT manager for a non-profit. Brian enrolled in the program to advance his knowledge of networking.
"The best thing is the hands-on. Working with real equipment is so important. Bring able to configure real routers, switches and firewalls is such a valuable experience.
The instruction is amazing. The instructors are professionals from the industry who can guide me. I knew I was in good hands.After the routing class, I reworked the IP configuration at my workplace, separating the voice and data.
My CEO gave me extreme praise---and a financial reward! If you were to ask my boss what he thinks about the gain in my experience in the one-and-a-half years I've spent in the program, he'd tell you it's tremendous!"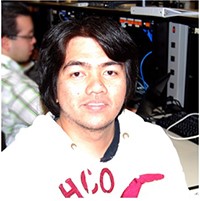 Joseph
Joseph has an AS Degree in Computer Technology and worked as a technical support representative for an internet company in the Philippines. Once in the United States, he tried another school before coming to Skyline.
""I enrolled in a private college, but it was too expensive and didn't use real equipment---they used virtual machines. The TCOM classes are well-structured, straight forward and provide hands-on lab experience with real equipment, which I believe is an effective learning approach in understanding technical topics such as configuration of Cisco routers and switches.
They have great instructors who work in the field and are knowledgeable of the subjects they teach. I encourage anyone who wants an IT education to enroll in the TCOM program. It's hands-on lab with real equipment, gives you well-structured course materials and has really knowledgeable experienced instructors, who want you to succeed in the IT industry."
Marcel
Marcel has always enjoyed working with technology. He enrolled in the Network Engineering Program after earning a BA in Art at SFSU. He is now working as a network administrator.
"The hands-on labs are the reason I passed certification tests because I learned how to operate a router rather than memorizing how to do it from a book. Troubleshooting is crucial at a job site and it helps when you have physically touched a device rather than relying only on a device's manual. Routers and switches are expensive and simulators do not give you the hands on experience like the labs in class gave me.
There is not one bad teacher in the bunch. Everyone is unique and accessible with interesting stories to tell from their jobs.
The program has taken me from a consumer level to an engineer level of understanding when it comes to networking. After a few years of taking most if not all the classes, I now have my CCNA certification, as well as the CompTIA A+, and Network + certifications."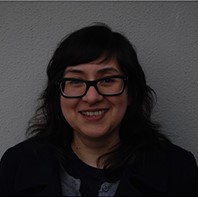 Mary
Mary has a decade of experience in software and desktop support, and an MCP certification; when she found herself between jobs, Mary enrolled in the Network Engineering Program at Skyline on the suggestion of a friend.
""Being able to wire and configure the Cisco routers and switches let me see how the concepts and network protocols we were learning about really worked. It was also fun to troubleshoot any issues, giving us a chance to use the tools and commands we were learning, and figure out how to resolve them ourselves.The instructors could be tough, but in a really good way. If something wasn't working, they would give suggestions or ask just the right questions to get us back on the right path, allowing us to solve problems on our own.
I am now working for a terrific software company as a support engineer. The concepts and skills from I learned from the program directly applied to the job interviews, as well as day to day tasks in my job."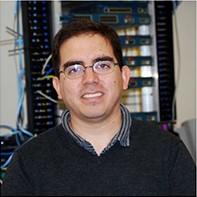 Oscar
Oscar had a degree in Music Performance (Classical Guitar) and a curiosity about how things work. His IT career began in the Network Engineering Program. Oscar is currently a multi-certified technical support engineer and an experienced manager of enterprise implementation of information systems.
"I used to play with my computer and wanted to know how things work, but my knowledge was very limited. Networking was pretty new and strange to me, but I got more interested when I started getting into the hands-on with the Cisco routers. I continued with the classes, and it was I think a period of 2 months during which I prepared myself to take the CCNA. And I passed the CCNA. After my CCNA I had an internship with PARC which was specifically working with Cisco gear.
I enrolled in the Program knowing very little, and now I have a career as a support engineer, doing work that I really enjoy doing.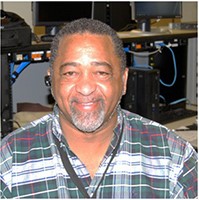 Randy
Randy had no IT experience prior to enrolling in the Program. Now, he's a Network Specialist for a school district. Randy is working toward his AS degree.
"The Labs are the same tasks that I am asked to do at work and it has always helped me get through the projects I am assigned. I love it. From the first class I took, I saw that the teachers for the Network Engineering Program were in the portion of the Tech industry in which they were teaching and this is an amazing advantage for those of at the time who were trying to get into the Tech field. They taught practices and procedures they themselves had done that day or that week. They also showed you what worked and what didn't work in the real world.
"I never experienced any other schools or programs that can give you the real time industry education and the real time industry hands on experience that the TCOM courses give you. My Superintendent took one look at the work I did, which is what I learned the night before and hired me on the spot. The training is that good. Thanks for everything.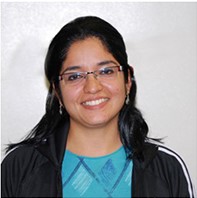 Rita
Rita came to the program with an AS Degree in Electronic Engineering from El Salvador; she earned her AS degree in Network Engineering and has completed an internship with NASA. Rita is preparing to transfer to San Jose State University to obtain a BS degree in Industrial Technology.
"My experience of the hands-on labs was really challenging and fun. This allowed me to understand all the concepts beyond the language barrier (I was still an ESL student when I joined the program). The experience of working with real equipment gives you the experience, confidence, and real life difficulties that just theory cannot give you. It is by far a perfect way to learn. IT people are all about hands-on experiences, this program is perfect for us!
The teachers were amazing, their dedication and enthusiasm was contagious! They were very supportive at every step of the way, always approachable and ready to help with any issues or questions we had. The program has opened up an entire new world for me."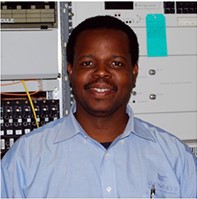 Sammy
Sammy was a farmer in Tanzania; he had no IT experience, but he did have an interest in technology and networking. Sammy now has his CCNA certification and is working on a VoIP project linking East Africa and The Bay Area.
"At Skyline they have this hands-on with switches and routers. These classes really need hands-on...that's the big difference between Skyline and other colleges. I began taking classes at another college but could not get help from the teachers which made it very hard. And the equipment was online (virtual) but to me I need to touch the equipment and build the cables.
I like the classes. My teachers at Skyline answered any questions I have---the teachers will help you. It's up to yourself what level you take these classes to. The teachers will help you. I kept doing labs and finally when I'm ready I take the CCNA. And I passed the CCNA."
---