Council Members
Members of the Skyline College Industry Leadership Council come from a variety of backgrounds, careers and industries in the Bay Area. With backgrounds in business, innovation, public service, healthcare, nonprofits, law and more, these individuals donate their time to help shape the course of Skyline College alumni shaping the future of workforce.
Member List
---
Member Biographies
---
Lamont Bransford-Young
DJ Lamont founded Fingersnaps Media Arts in June 2004, as a means to develop and promote educational and entertaining opportunities, to individuals and organizations, by providing high quality media, such as DJ Lessons and DJ Services, based on Mr. Young's talents and experiences, while expressing his entrepreneurial and creative spirit.
Fingersnaps Media Arts is an African-American owned and operated micro-business, creating community, with music being the center of self expression. DJ Lamont has taught over 200 DJ's in his home music studio and hundreds of youths and adults in after-school enrichment programs and community centers.
DJ Lamont produces a weekly radio show called The Fingersnaps Music Salon on community radio KPOO 89.5 San Francisco, Wednesdays 12 Midnight to 5:00 am, featuring disco, classic dance, The San Francisco Street Inspired House Mix, Nujazz & Soul music, along with commentary and special live in-studio guests.
---
Sarah Budriunas
Sarah has been with Tesla for 4 years, and currently helps run and scale the Tesla START Program across various areas of the company. She helped launch the START Program for Tesla Service, which hires and places automotive technicians throughout the US. Sarah also actively participates in community outreach & workforce development efforts throughout the Bay Area and the West Coast. Sarah is passionate about the skilled trades by building diverse pipelines & finding great talent across the country to support Tesla's growth. Sarah is originally from the Bay Area, is a proud alum of UC Santa Barbara, and now currently resides in Seattle, WA. In her free time, you can find her hiking or snowshoeing with her boyfriend and 7 year old Husky.
---
Alex Chong
Alex Chong is the Campus Coordinator and Senior Registered Behavior Technician at Kyo. At Kyo, she provides autism and behavior intervention services based on the science of Applied Behavior Analysis, which implements strategies to produce socially significant changes in behavior in individuals with developmental challenges. As a Campus Coordinator, she partners with Bay Area universities to engage with students through meetings, webinars, career panels, and job fairs. She utilizes her personal SRBT experiences to connect with students interested in becoming clinicians in the healthcare, educational, child development, and psychological fields and assists them through the employment process at Kyo.
---
Laura DeKelaita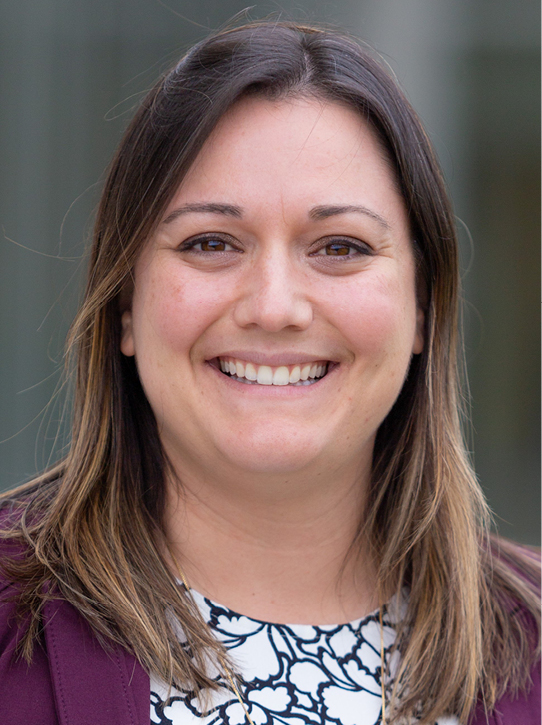 Laura is a Program Services Coordinator with Strategic Partnerships and Workforce Development. She assists with job placement for students in the meta majors of Business, Entrepreneurship and Management. Laura is passionate about connecting students with meaningful employment opportunities in the Bay Area. Prior to working at Skyline College, Laura worked in the private sector onboarding and supporting employees at Sony PlayStation. She also worked in career development at a non-profit in San Francisco, JVS, where she supported job seekers, created employer advisory committees as well as facilitated career readiness events with major employer such as Twitter, Charles Schwab and Google.
---
Camille Espiritu
Camille Espiritu is a seasoned marketer who has over four years of industry experience. She attended Skyline Community College from 2010 to 2012 where she received her Associate's degree. Camille then continued her education at the University of San Francisco where she received her Bachelor's degree in marketing and graduated in Spring 2014. After college, she worked in a number of marketing and sales jobs in various technology and entertainment companies. Her combined experience and obsession for all things Disney lead her to her current role in THX Ltd. where she now works as a Marketing Specialist and focuses on digital campaigns, content creation activities, and partner engagement initiatives.
---
Desiree Fought
Desiree Fought is a Talent Acquisition Manager with Madison Reed. She oversee's all recruiting for the Western region of Madison Reed's hair color bars, and recruiting for the company's headquarters. Desiree loves being able to connect with candidates all over the country and help align them with career opportunities that best suit their needs and skillset. Prior to Madison Reed, Desiree started working in the beauty industry when she was 20 years old, starting in retail and makeup artistry, then helping run admissions and marketing for a premier cosmetology school, and presently, at Madison Reed, where she joined the team as the company's first recruiter. She is also very passionate about incorporating DEI into the recruitment process, as well as company culture to ensure all people are represented fairly and given equal opportunity.
---
Rolando Madrid
Madrid has over 25 years of youth development experience and a proven track record of successfully designing and implementing high quality programs within urban/suburban school districts and multi-site community based organizations. He earned his BA in both English and History from the University of Buffalo and his Master's degree in educational leadership from Northeastern University. He is currently a Doctoral student in educational leadership at American College of Education with a specialized focus on community based organizations.
---
Lia Maksoud
Lia Maksoud is the Human Resources Director with the Asian Art Museum. She oversees all aspects of Human Resources and Volunteers for the museum. Lia has worked in Human Resources in various sectors (museums, education, and local government) for approximately 10 years. Prior to her career in Human Resources, she worked in direct services assisting transitional age foster youth. She looks forward to being able to assist students in achieving their careers goals while continuing to serve the community..
---
Melisa Medrano
Melisa S. Medrano obtained her PhD in Molecular Microbiology from Tufts University Sackler School of Biomedical Sciences in 2008. The recession, and few entry-level science opportunities available in industry at that time, led her to recruiting for scientists and clinicians in biotech and pharma, which she has enjoyed ever since. Melisa began her recruiting career with 5 years at Kelly Scientific Resources, a Staffing Agency, then joined Gilead Sciences as an in-house recruiter for 6 years; she currently manages recruitment at NGMBiopharmaceuticals. NGMBio is a small, clinical-stage biopharmaceutical company with interests in metabolic disorders, liver disease / NASH, ophthalmology, and immuno-oncology, and Melisa enjoys being close to the science and connecting candidates with roles at NGM. Melisa is passionate about DEI initiatives, helping students transition from academia to industry, and career / resume / interview counseling.
---
Samir Metovic
Samir Metovic is the Division Director for the Robert Half Legal Silicon Valley branch while also being the Attorney and Paralegal recruiter. He works with professionals looking to get into legal or continue their legal career by finding opportunities throughout the Bay Area. With over six years experience, Samir has helped professionals of various type of background and experience staffing for solo practitioners as well as the large, international large firms. Samir has also had the pleasure of working with start-ups and large companies in finding legal professionals for their openings.
---
Alexa Moore
Alexa Moore is a Program Services Coordinator with Strategic Partnerships and Workforce Development. She assists with job placement for students in the meta majors of Society and Education. Alexa has dedicated seven years of work at the Skyline College Early Learning Child Development Laboratory Center where she worked with a variety of students, staff, faculty, children, and families in different ways. Living in the Bay Area her whole life Alexa is alumni to both Skyline College and San Francisco State University with an Associates in Early Childhood Education, a Bachelor's in Child Development, and Masters in Special Education. Alexa also teaches as adjunct faculty for Canada College in the Education and Human Development Department. She brings with her the willingness and leadership capabilities to help support the students of Skyline College as they transition from their educational pathways into their dream jobs! Fun Fact: Alexa swam with sharks in the Bahamas.
---
Kim Nichol
Kimberly Nichol is a Talent Acquisition Specialist with Kadiant and has worked with the company in the Talent Acquisition and Human Resources department for 5 years . She works with stakeholders, colleges and the community to connect job placement opportunities at Kadiant. She is passionate about connecting candidates to career and professional development opportunities. Prior to Kadiant, Kimberly has worked in the Behavioral Health Care setting and Biological Science industries. Fun Fact: Kim is a coffee and gardening aficionado.
---
Meaghan O'Brien
Meaghan O'Brien is the Director of Peer Programs at the Mental Health Association of San Francisco, a peer run organization that advances social justice in mental health. Meaghan oversees the Peer Programs department which provides Bay Area mental health consumers opportunities focused on building supportive peer communities that foster autonomy and resiliency through advocacy, innovation, training, and workforce development. Meaghan has been with MHASF for almost five years and recently completed her masters in Education with a concentratin in Equity and Social Justice from San Francisco State University. Meaghan's professional experience includes program development, public speaking, and training community members and staff on recovery model principles.
---
Zuleica Pena
Zuleica is part of the Campus Recruiting team at PwC and her main schools include Fresno State and San Jose State University. She graduated with honors from San Jose State with a B.S in Corporate Accounting and Finance and a minor in Philosophy and was the first in her family to graduate from college. Zuleica began her career at PwC in the Assurance practice 5 1⁄2 years ago in the San Jose office and worked primarily on Semiconductor and Software & Internet clients in the Silicon Valley. She transitioned to campus recruiting two years ago and was recently promoted to Manager in December 2020. In addition to recruiting for our firm opportunities, Zuleica is also the San Jose office lead for the Start diversity internship program and is passionate about continuing to recruit more diverse and first gen candidates.
---
Nicholas Perez
Nicholas Perez is the Human Resources Coordinator for Cytokinetics, Inc. He assists with the recruiting and onboarding efforts for the organization, including full time positions, contractors, and interns. Nick is passionate about creating change with students in the Bay Area, looking for meaningful ways to give back and help them take full advantage of great opportunities for success. Before working at Cytokinetics, Nick worked for the Oakland Raiders during their final season in Oakland.
---
Casey Porter
Casey Porter is a Talent Acquisition Manager with Enterprise Holdings in the Bay Area. He assists with recruiting early talent for the Management Training Program. Casey is passionate about connecting underrepresented groups with opportunities at Enterprise. In addition to this entry level role, Casey also recruits for sales, auto techs and support staff positions to help support the network of branches in the Bay Area. Casey has been with Enterprise since starting as an intern in 2000 while attending Notre Dame de Namur University where he received his Bachelors degree in Sociology and Political Science. Fun Fact: He has worked for Enterprise for half of his life!
---
Brittney Sneed
Brittney Sneed serves as the Job Placement Coordinator supporting the Science, Technology & Health meta major in the Strategic Partnerships and Workforce Development division at Skyline College. She began her career at Skyline College as an intern and office assistant at the Bay Area Center for International Trade Development before transitioning to the office of Marketing, Communications and Public Relations as Staff Assistant for over five years. She actively supports programs on campus including the Umoja-ASTEP learning community, the Black Student Union and the Women's Mentoring & Leadership Academy. Before working in higher education, Brittney was an integral member of The Garden Project team, a non-profit organization based in San Francisco and dedicated to providing job training and income to at-risk youth while supporting the community by delivering fresh, organic vegetables to those with little access.
---
Trevor Speech
Trevor is a Facilities Development Director with extensive experience in the healthcare construction industry. His professional strengths include leading construction project teams of various sizes in outpatient and acute care facilities. He has been involved in Project leadership activities including trade partner selection, contract negotiations, development/maintenance of budgets and schedules, implementing project delivery methods, maintaining project financial control systems and customer relationship management for hospital executive teams. Trevor is familiar with the State of California building approval process, as well as the Office of Statewide Health Planning and Development (OSHPD). Trevor effectively communicates with all project stake holders, and attending to project details without losing sight of the "big picture" is always the goal.
---
Simona Stodulkova
Simona is originally from the Czech Republic and works as a Paralegal at a San Francisco based full-service law firm Schinner & Shain, LLP. She joined the firm as an intern during her studies at Skyline College and was hired upon her graduation from the ABA-approved Paralegal Studies Program in December 2018. She assists attorneys in various areas of law, including real estate, business, estate planning and intellectual property. Simona was recently admitted to law school with full tuition scholarship for the Fall 2021 incoming class.
---
James Van
James has been helping people find their next calling in professional life for over 20 years. He began as a tech recruiter in Silicon Valley, where he helped many tech companies, large and small meet their recruiting needs. He transitioned to be a career coach, where he has helped hundreds of students transition back into the workforce. He is currently Director of Career Services and Professional Development at SoloLearn, a learn-to-code platform.
---
King Victor
King Victor is a Trailblazer Connect Program Coordinator at Salesforce. My role revolves around supporting and engaging Universities, Colleges, and Workforce development programs and in helping integrate Salesforce content into their curriculum. and connect job seekers to opportunities in our Salesforce Ecosystem through career events. I am a true believer in lifting as you climb and that is a motto that I apply with my work everyday. Coming from a workforce development I love the fact I get to help support job seeker on their path to their next career opportunities. Fun Fact: King trained to be a firefighter before working at his current job.
---
Andrea Vizenor
Andrea joined California Community Colleges in 2003 as a Deputy Sector Navigator for the Retail, Hospitality and Tourism (RHT) sector at Skyline College. Ms. Vizenor acts as a catalyst for the advancement of career education programs, thoughtful industry engagement, K12 pathway expansion and educator professional development. Andrea has a vast background in industry and K12 education where she began her role in the hospitality industry as a travel agent and moved quickly into a career with Hyatt Hotels and Resorts. During her 10 years in management with Hyatt Hotels she held the following positions: Rooms Manager, Executive Housekeeper, Director of Guest Services, Employment and Training Manager and Director of Training. Through valuable partnerships established with education during her Hyatt Career she was afforded the opportunity to teach K12 Hospitality and Entrepreneurship Career Technical Education (CTE) programs for 8 years. In her role as Dean of Strategic Partnerships and Workforce Development, Andrea works closely with faculty, staff and administration in paving the way for new program development, quality high school partnerships and collaborations, adult school bridge to college programming, high value employer partnership creation as well as the creation of valuable work-based learning opportunities.
---
Todd Wanerman
Todd Wanerman, MA, has contributed to the field of Early Childhood Education for over 30 years. He was a teacher and administrator at The Little School in San Francisco, CA, where he helped develop their unique approach to inclusive education. Todd is the Curriculum Director and a lecturer in the innovative PATH teacher training program at San Francisco State University, and provides coaching, training and consultation to ECE programs around the world. He is the co-author of, Including One, Including All: A Guide to Relationship-based Early Childhood Inclusion, and the author of, From Handprints to Hypotheses: Using The Project Approach With Toddlers and Twos. His work has appeared in NAEYC's Voices of Practitioners, and Young Children. Fun Fact: He delivered the keynote address at the 2015 Early Childhood Education Graduation Ceremony in 2015.
---
Andrea Weaver
Andrea is a speaker, social change advocate, and DEI specialist. Her focus has been specifically supporting leaders, communities, and organizations through radical transformational change fostering brave spaces that enrich community diversity. Andrea's experience includes tech organizations, startups, non-profits, and political organizations globally and specializes in diversity, equity, and inclusion (DEI), organizational and insterpersonal development, reimagining talent acquisition practices and policy, and scaling employee resource groups (ERGs).
---
Luciana Xavier
Luciana Xavier recently joined Lawrence Livermore National Laboratory as the Assistant Director for Workforce Development in the Engineering Directorate. Prior to joining LLNL Luciana served as the Director for Corporate & Government Partnerships at UC San Diego where she worked with faculty and external collaborators to bring together technical expertise across academia, industry, and government to conduct cutting edge research in emerging fields to move forward a wide range of technical missions. Prior to this Luciana held positions in Refugee Resettlement, Liverpool Football Club, and the World Bank. Luciana was awarded her Bachelors degree from the University of Central Florida in History and was also active in undergraduate research in TPA techniques and their applications in optics at CREOL. She subsequently completed her MA in Irish Studies at the University of Liverpool with a focus on Civil Warfare in Northern Ireland.