Schedule and Workshops
2024 Schedule
9:30am - 10:00am

General Assembly: TBA

10:15am - 11:15am
Workshop 1 (Choose from selections below)
11:30am - 12:30pm
Workshop 2 (Choose from selections below)
12:30pm - 1:30pm
Lunch
1:45pm - 2:45pm
Workshop 3 (Choose from selections below)
3:00pm - 3:30pm
General Assembly II (Contest prizes)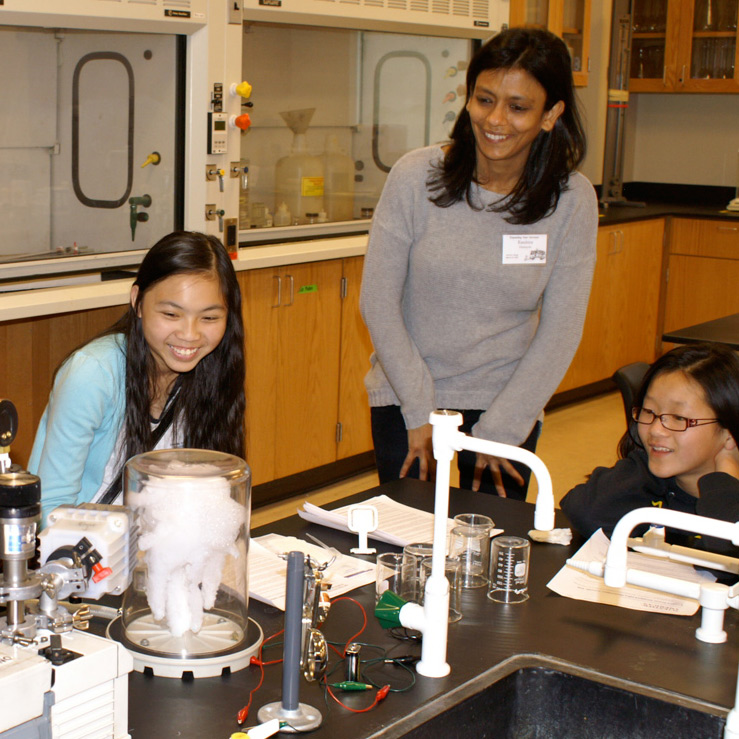 2024 Workshops Schedule Comming Soon!
2023 Workshops
1. A Day in Network Engineer Life. Overview of professional opportunities in the network engineering field such cybersecurity, data center, network architect. Workshop will provide a lab activity that represents responsibilities of network engineer
2. AI with Pictionary. Come learn AI with Pictionary! Students will engage in a physical Pictionary and then a digital one (Google's Quick, Draw) to emphasize AI's capabilities.
3. Build a Flower Workshop: Preservation, Curation, and Study of Plants. Students will learn about how an herbarium works and get hands on experience pressing and mounting plants as well as learning about how scientists use these plants to study evolutionary questions.
4. C.S.I. San Bruno: Murder in the Produce Aisle. Interview and fingerprint the suspect, then analyze DNA to solve the crime.
5. Cell-ebrate Your Own Cells. Come for this hands-on activity and learn how to prepare a specimen of your own cheek cells and how they look like under the microscope. Also, you will have the chance to determine your blood type and why this is important.
6. Code Your Own World with Scratch. Learn the fundamentals of programming and create your own games and animations with Scratch, a block coding language!
7. Creation and Understanding of Architecture. In Creation and Understanding of Architecture, students will be informed about the architecture field and career pathway.
8. Electrify your Life: The Art of Electronics Manufacturing. Learn how to solder printed circuit boards through building your own LED flashlight.
9. Engineering with Hydraulics. Work with a team to design, build, and test a hydraulic machine!
10. Intruder Alert. Someone has recently intruded on our top-secret scientific base, thankfully we got a genetic sample that was left behind. Come learn about the importance of Electrophoresis and how it is used to solve crimes around the globe!
11. Light Up Your World with The Art and Engineering of Paper Circuits. Discover applications of electronics and engineering while making your very own circuit powered LED light up card!
12. Light up! Illuminate your own creations and acquire basic circuitry knowledge!
13. Love at First Byte. Write a computer program in BASIC! Write a story with a Madlibs program. Debug (fix) an Adventure Game program. Play and modify other games on the computer
14. Our Small World At 1000x. Discover the basic units of life at the closer view. Learn how to use microscope to observe different cells and small living things.
15. Particle Detectives. Step into the shoes of a particle physicist and track down elementary particles.
16. Pipette artwork. Using pipettes is an important skill to learn, especially in the field of science! Come learn the basic principles of using a pipette while also making some art! Use the pipette to create colorful works of art using nothing but food dye and water. Using the pipette, you will also learn the differences between accuracy and precision. These are also very important to know. It will be simple yet fun! Come on down.
17. Respiratory Care Practitioners Make You Breathe! Hands on CPR training, performing spirometry, auscultate (breath sounds), proper handwashing technique, unhealthy lung display compared to a healthy lung, drawing and painting lungs.
18. Scaling the Solar System. Take a walk through the solar system and build your own scale model using beads and strings while learning about the planets.
19. Sharks, not the most dangerous animal in the world. Sharks have been an important part of our world for a very long time. Learn just how long they have been around, why they are important to the ecosystem, and how people are are both helping them and hurting them in different ways.
20. The Air We Breathe: Air Quality & Environmental Justice. Join SEI to learn about how experts measure air pollution, then measure local air quality yourself in an exciting field experiment! After measuring, use data from across the state to ask the question: is the quality of air the same in every community throughout California? Take part in our investigation of air quality, environmental justice, and more to find out!
21. The Chemistry of Cosmetics. Take a look at cosmetics through the lens of chemistry. Discover ingredients and techniques to make cosmetics and make your own lip balm.
22. The Heart: How does it work? Dissect a heart showing its parts and how these intricate parts work together to pump blood.
23. The Scientist in the Kitchen: Molecular Gastronomy. Explore the physical and chemical changes that occur while cooking. Participants will conduct the culinary process of spherification: shaping liquids into spherical treats! Timothy Wong, Amanda Carrillo, & Peggy Wong. Skyline College Biology.
24. Tinkering with TinkerCAD. Introduction to the basics of TinkerCAD, through problem-solving with 3D design.
A1. A Full Stack Guide to Preparing for College. Has your kid demonstrated interest in STEM? Do they dream of being a scientist or engineer? It's never too early to start planning for college. In this workshop, we'll go over potential STEM Majors and how to navigate summer experiences that will both nurture interest and facilitate stronger college applications. Tiffany Reardon. REU Finder LLC
A2. Community College 101. Overview of California Community Colleges, Skyline College and Four-Year Transfer Opportunities. Jeremy Evangelista-Ramos. Skyline College Outreach.
A3. 529: The Tax-Free Way to Pay for College. How to ensure the growth rate on your college savings plan outpaces the inflation rate of college tuition on an after-tax basis—by eliminating tax on the growth. Willard Folsom & James Luippold. Castle Rock Wealth Management.