Work at The Learning Center
The Skyline College Learning Center (TLC) offers student-centered, peer-based learning assistance services designed to enhance student academic performance in their courses in order to improve student retention and perseverance toward degree and certificate completion.
If you'd like to help fellow students progress and succeed as they work towards their academic goals, then you may be an excellent candidate for a student assistant or tutor position at The Learning Center.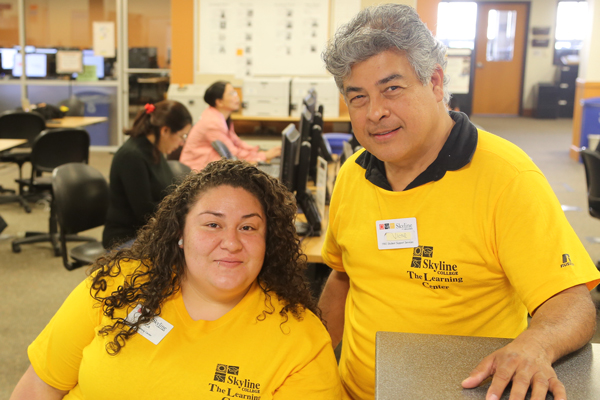 What Positions Are Available at The Learning Center?
Student Assistant
Student Assistants are currently enrolled Skyline College students who welcome new and continuing students to The Learning Center, provide information and referrals to students and faculty, and help students access the services provided in The Learning Center.
This position is ideal for students who can work effectively in a high-responsibility position both individually and as part of a team. All positions are part-time.
Learn More & Apply
Peer Tutor
Peer Tutors are currently enrolled Skyline College students who provide one-on-one or group tutoring to other Skyline College students.
In order to become a Peer Tutor, students must complete the 16-week LSKL 110 Tutor Training course. Upon completion, tutors will receive CSU transferable course credit and will have satisfied the first part of the required training to receive a Level I CRLA Certificate. They will be eligible to work in The Learning Center as a tutor as the budget permits.
Learn More & Apply
Graduate Tutor
Graduate Tutors are tutors with a bachelor's degree or higher in the discipline for which they tutor. They provide one-on-one or group tutoring to Skyline College students and work in mentoring relationships with other tutors.
Preferably, Graduate Tutors will be currently enrolled in a gradute program or have a master's degree or Ph.D. in the discipline for which they tutor.
Learn More & Apply
Information for Newly Hired and Current Staff Members
Completing Initial Paperwork, Training & Timesheets:
Once hired, complete a hiring packet and submit to the TLC staff assistant or call 650-738-4144.
You must show your driver's license and Social Security card to process the paperwork. No one can be hired without these documents.
You will sign in on a physical sign-in sheet behind at the TLC every time you are on shift. This is the hard copy.
Once per month, you will enter your total hours on the electronic timesheet in WebSMART. You may have to project hours that have not been worked yet.
TLC staff usually send out a reminder to you about your timesheet - please heed the reminder and get your timesheet submitted on time!
All new student assistants, student tutors and grad tutors are required to complete training, upon which they will be approved for additional hours of pay (one time).
TLC Student Assistant and Tutor Tardy/Absent Policy
People in TLC are counting on you. If you fail to show up without giving prior notice, it inconveniences students and co-workers, and it reflects badly upon TLC.
If you must miss your shift, it is your responsibility to:
Find a replacement tutor to cover your shift.
Notify The Learning Center by email or phone (650-738-4144) at least 24 hours prior to tardy/absence and inform her of the date and time of your tardy/absence and who will be replacing you on your shift.
Who can use The Learning Center?
Students who wish to use tutoring services at any Learning Center Lab must enroll in one Learning Skills (LSKL) Class. Learning Skills are not graded and students can choose between:
LSKL 803: A free, repeatable class with zero units that is non-degree applicable
LSKL 800: A pass/no pass class with your choice of 0.5 or 1.0 units of credit

0.5 units = approximately 1.5 hours per week spent using Learning Center resources
1.0 unit = approximately 3 hours per week spent using Learning Center resources"
For each .5 unit that you are enrolled in your LSKL 800 class, you will need:

A minimum of 24 hours of verified Learning Center visits
Three completed Directed Learning Activities (DLA) to receive a grade of Pass (P) and full credit at the end of the semester (48 hours and six DLA's for 1.0 unit)
What if students just need to print?
Sorry, the print station will only work with computers that students have to sign into. Only students who are enrolled in the learning center can use those computers. You can send students upstairs to the library if they do not want to enroll.
How do students print?
Students buy a print card from the machine near room 101 (next to the copier). 1 card is .50 and comes with two prints. The cards can be recharged at the same machine. The cards are also used upstairs in the library (there is another machine there).
Students must click "print" and a print window will open on the desktop. They must type their name in the box and click "Print." They go to the print station and insert their card. They will see their print job there - they click and it prints.
Why do the computers sometimes refuse to print?
Occasionally, the client that connects printing goes offline and has to be rebooted. Instructions for this are in one of the drawers at the front desk and below. You'll likely do this enough times that you'll get to know the procedure well:
Go to Start>Computer>C drive
Click on the PopQuest folder
Find the blue PopQuest icon (it looks like a computer) and double-click it.
Tell the student to retry the printing process.
Certification
The Skyline College Peer Tutor training program is aligned with and certified under the International Tutor Training Certification program of the College Reading and Learning Association (CRLA).