Online Teaching
Instructional Continuity
Recommendations for getting started:
Establish Canvas course. Every SMCCD course has an instance within Canvas, our district's learning management system. Familiarizing yourself with Canvas is important; to start, focus on a few key elements. .
Establish Zoom. Every faculty member has access to Zoom, a videoconferencing software that allows for real-time conversation and integrates with Canvas. Start by configuring your Canvas account through our one-login page. When you are logged in, you will see a Personal Meeting ID; this is the code students will use to access your Zoom room.

Online & Hybrid Faculty
Skyline College faculty who plan to teach online or hybrid will need to successfully participate in a CTTL Canvas Training and complete the consultation process by the dates indicated below for each semester.
If you have any comments, questions or concerns about this process or completion dates, please be sure to contact the CTTL at skylinecttl@smccd.edu prior to deadlines indicated below.
Faculty who have completed Canvas training and are now working on building courses in Canvas are invited to attend Canvas Open Lab sessions where CTTL team members will be available for individualized support.
Course Design Tools
Faculty who teach online or hybrid are highly encouraged to use the 'Skyline College Online Teaching Course Checklist' and the 'Online Education Rubric' during the course design and build phase. These tools will help you as you progress through your course build and will help to facilitate a successful CTTL Consultation.
Canvas Resources
Technology Support Desk (Skyline College Learning Commons)
The Technology Support Desk is located next to the Drop-In Computer Lab on the 2nd floor of the Learning Commons (Building 5). Students, faculty, and staff can seek support with Library printing, scanning, photocopying or working with computers (as well as in room 5200A). The Technology Support Desk also provides support for Canvas, WebAccess, WebSmart, as well as programs such as Microsoft Office 2013 and various Google apps to support academic excellence.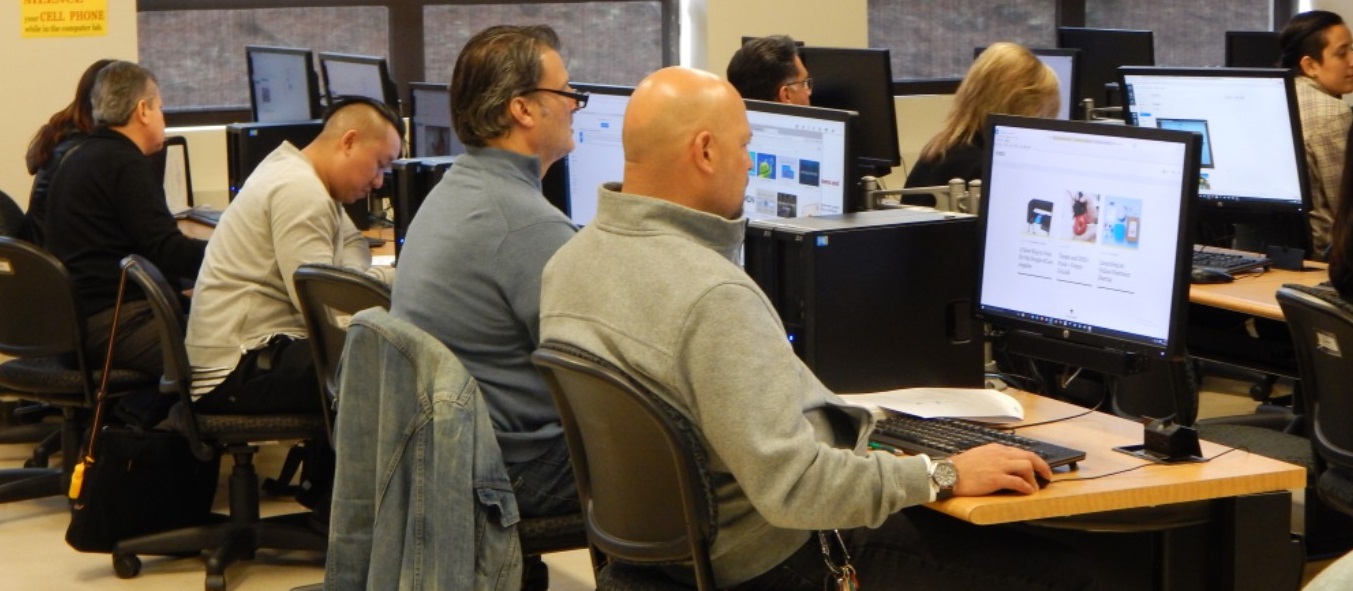 Online Readiness Modules
These modules can be can be used and embedded into CANVAS courses. The State of California's Online Education Initiative (OEI) has developed the Online Readiness Modules, an innovative set of interactive tutorials and tools, which may increase students' success in your courses. Many of the topics are especially useful at the beginning of a course if you are planning a course orientation or introduction activities.
SMCCCD Online Course Support Center
The Online Course Support Center provides students and faculty with technical support via email, chat, and/or phone.
For email support, click "Open a ticket." After you submit the ticket, a member of the Online Course Support Center staff will respond to you by email or by phone. Email responses will occur from 6:00 AM to 9:00 PM (Pacific), 7 days a week.
For phone support, call 888-998-6010.
Call Center Hours: Monday-Friday: 9:00am - 5:00pm (Pacific)
Center for Transformative Teaching & Learning Distance Education Team
The CTTL maintains the Canvas Information website where you can find status updates and resources to support your online teaching experience. Instructors can also visit or call the CTTL for information about emerging technologies and resources to support the enhancement of teaching and delivery of online, hybrid and Face to Face (F2F) courses.
D.E.Coordinator: Chris Collins
Instructional Designer: Dr. Bianca Rowden-Quince
Instructional Technologist: Ricardo Flores

Canvas Feature Ideas: Feature ideas allow people to suggest ideas on ways to improve or enhance Canvas' functionality. It is one of many inputs we consider when choosing to build new features into our products.
Canvas Commons: Commons is a learning object repository that enables educators to find, import, and share resources with the public (or within their institution). Come here for all your news, resources and questions related to Commons.
Skyline College Online Education
OEI Course Design Rubric (as of April 2016)
Online Teaching Course Checklist (as of Nov 2016)

CCC Online Education Websites
CCC Online Education Initiative