Innovation Hub
The Strategic Partnerships and Workforce Development acts as a catalyst to empower faculty and staff to explore innovative ways they can integrate workforce readiness skills into their instructional delivery and establish deeper meaning across student learning in the classroom. The Innovation Hub and Project Center is where faculty and staff can share their ideas and obtain funding to support projects that advance the mission, vision and values of the Skyline College and performance measures outlined in the Strong Workforce Program.
Design Thinking / Doing
The Strategic Partnerships and Workforce Development formed a partnership that provides opportunities for faculty, staff and leadership to take part in cutting edge training and development. Our Design Thinking Deep Dive is a partnership with SAP and Maureen Carroll, Ph.D. founder of Lime Design Associates and lecturer at Stanford University's Hasso Plattner Institute of Design (d.school) where she co-teaches Hacking Your Innovation Mindset and the d.school Fellowship Program as a Design Ally.
Participants of the Design Thinking Deep Dive have the opportunity to mirror the teachings from the d. school which builds on methods from across the field of design to create learning experiences that help individuals unlock their creative potential and apply it to the world. This opportunity was designed to engage faculty in developing design thinkers to innovate, create, and act as empowered change agents to prepare and meet the challenges and opportunities of leading and learning in the 21st century. Participants gained both an understanding of the design thinking process, build a common language around innovation, and develop the creative confidence to begin to apply the process to solve problems of practice within their school community and classrooms.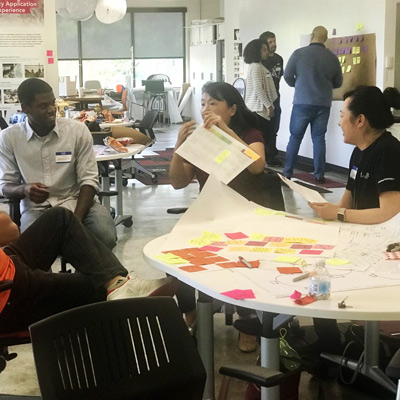 Apple Technologies Professional Development
As a result of Skyline College's partnership with Apple Technologies we were able to bring in the latest in cutting edge Apple technologies and hands-on learning opportunities to Skyline College students, staff, faculty and administration.
Skyline College hosted a two-day Career Education Faculty Training Institute, where faculty and partner high school teachers engaged in hands-on training using iPads. Participants were able to work with iPads where they learned exciting instructional strategies to build increased enthusiasm in the classroom, a variety of educational apps and tools designed to support deeper learning while enhancing skill development of students in high demand technology skills.
Reverse Engineered Pathways – Technology Retreat
Industry leaders in the technology industry and Skyline College's Computer Science and Digital Art faculty joined efforts to work together to chart, capture and discuss critical knowledge, skills, abilities and technical training that students need to be best prepared for middle skilled careers in UX Design, App Development and DevOps. On Friday, October 13, 2017, as part of the Strong Workforce Program, the Dean of Strategic Partnership and Workforce Development, Andrea Vizenor facilitated a Technology Pathway Design Retreat to advance our colleges plan to expand emerging technology offerings for students.
Expertise of leading companies such as Adobe, Apple, SAP, Facebook and Meta Company shared thoughtful insights on the high impact skills our students will need to have as they complete a certificate or degree in new educational programs while giving them a competitive edge as they enter the workforce. Additionally, key faculty members, Nick Langhoff, Norm Del Prado, Walter Hanley, Amir Esfahani and Dean Ray Hernandez provided insight regarding the innovative content and practices they deliver in their current programs and across the SMT division.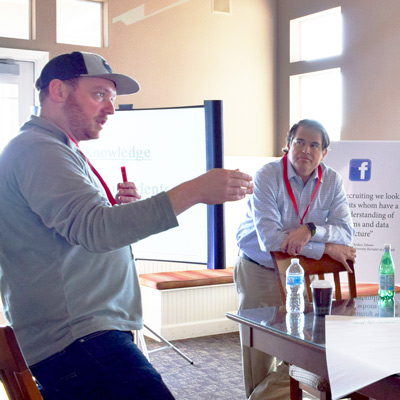 Throughout the day industry leaders and faculty members worked together in groups and actively engaged in conversations to discuss the development of new technology pathway programs that will be created by our faculty at Skyline College.
The day culminated with an Augmented Reality hand's-on learning experience provided by Meta Company, a technology company specialized in AR. Industry leaders and faculty members were thrilled to engage in the experience this innovative technology provides and left with insightful knowledge of how this technology will help students and community members to be best prepared to enter into the workforce. The Augmented Reality goggles have been purchased for faculty at Skyline College as an effort to support the integration of high quality technology experiences into the classroom for students as part of the new program development.