Scholarships
Phi Theta Kappa members are invited to submit manuscripts for the Nota Bene literary competition. Annually a collection of essays, poetry and short stories is selected for publication. A $1,000 scholarship will be awarded to the best overall selection, and four scholarships of $500 each will be presented to the runners-up.
Phi Theta Kappa Regional Scholar is a scholarship for Phi Theta Kappa members with a GPA > 3.75, no grades of W, and plans to transfer in the Fall. Contact BΘO for details.
SFSU has the San Francisco State University Community College Transfer Honor Scholarship for students who transfer there from a community college.
UCSC has the Pister Leadership Opportunity Award for a Skyline student planning to transfer to University of California, Santa Cruz. The award is $20,000 over two years and Skyline College must nominate you. Contact BΘO for details.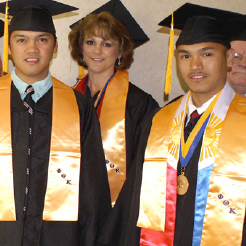 The National Italian American Foundation offers scholarships to students with at least one ancestor who immigrated from Italy, or a student from any ethnic background majoring/minoring in the field of Italian Language, Italian Studies, Italian-American studies, or a related field.