Success Summit
The Success Summit is a first of its kind event in San Mateo County. Developed in 2013, the annual summit creates avenues for discussing and developing innovative strategies and creative solutions for solving tough issues that affect San Mateo County businesses and residents.
Community members from the business, nonprofit, civic, academic, and government sectors are invited to participate in interactive discussions on themes significant to north county. Each year, participants tackle different issues, and generate new ideas to solve them.
2018 Success Summit
The sixth annual Success Summit featured thought provoking conversations that enabled participants to take part in interactive discussions on major issues facing the North San Mateo County region. Two panels of experts and a keynote speaker provided a foundation on which participants built rich discussion exploring the impacts and pros and cons of two primary topics.
Regionalization Panel & Discussion
Panelists and participants were asked to weigh in on the following questions: How is city autonomy balanced with the "good of the whole?" When should cities go it alone? Are there issues that can only be solved regionally? What are examples of successful regional and cross-sector collaborations?
Jobs Panel & Discussion
Panelists and participants explored the changing demographics of the workforce: Baby boomers retiring, millenials job-hopping, technology disrupting traditional jobs, and the gig economy providing flexibility without traditional benefits. In the face of these changes, attendees were asked what creative ideas are being implemented to attract and retain talent.
Keynote
Chris Galy, founder of NextPlay HR, delivered the keynote address. Galy, a leader in the HR field with more than 20 years experience in the industry, most recently at technology firms Ten-X and Intuit, spoke about the challenges of constantly changing workforce needs. The skills workers need to succeed today are different than they were 10 years ago, and will likely change in the next 10 years, meaning workers and employers alike must embrace flexibility and soft skills that can transcend rapid changes in any industry.
Presentation Resources:
---
Case Study: The Skyline College Express Shuttle
Getting to Skyline College's campus can be a serious challenge for many students. Limited public transportation options and the college's location can mean long commute times, or the need to take a personal vehicle to campus.
The 2013 Success Summit arrived at a key challenge that needed to be addressed. Titled "The Last Mile," the challenge focused on how to identify and create sustainable opportunities for the Skyline College community – including students, faculty and staff – to conveniently and economically travel to campus.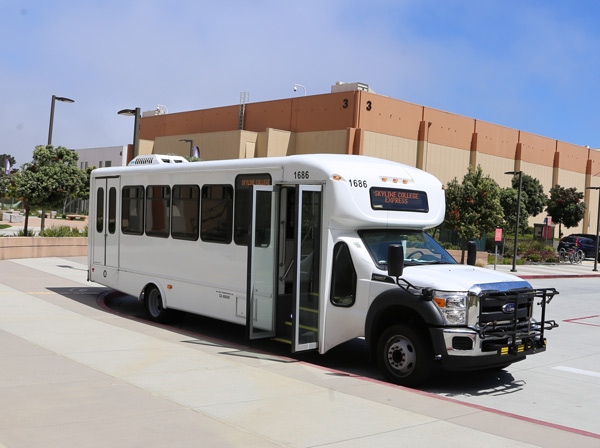 As a result of the Summit, and the subsequent assessments, reports, and grant initiatives that resulted, Skyline College was awarded a two-year grant to establish a free non-stop, round trip shuttle service between the Daly City BART station and the campus, thanks to the San Mateo County Transportation Authority and the City and County Association of Governments of San Mateo County.
The Skyline College Express shuttle service launched in August 2016, just in time for the start of fall semester classes. The shuttle has been a huge success, with ridership outpacing original estimates – students took an average of 5,000 rides per month on the shuttle in fall 2016 and spring 2017.
When asked why they used the shuttle, 84 percent of students cited free ridership as their top reason, 64 percent noted that it reduced their commute time, and 50 percent of riders used the shuttle because they didn't have access to a car or other vehicle. Open to students, faculty, staff, and community members, the incredible positive response underscores the critical need for this service and the importance of removing a common logistical and financial barrier for students. Potential students who otherwise had no means of transportation to attend college now have access to world-class educational opportunities.