BioBridge Program
What is the BioBridge Program?
BioBridge is about connecting your education with work-based learning. This program is designed for beginners entering the field of biotech for the first time and is not appropriate for individuals with a Bachelor's degree.
Students will spend two semesters earning a 30-unit Certificate of Achievement that introduces students to current trends and processes in the biotechnology manufacturing field and focuses on entry-level relevant science, math and English skill building. In particular, students will develop workforce readiness and soft skills to obtain hands-on work experience.
If you have questions or comments about the application process, contact Nick Kapp (650-738-4415).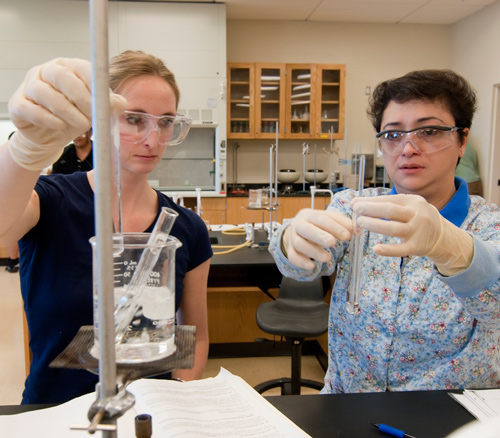 Program Details
Fall Semester:
Students are provided with a baseline of skills in:
Biotechnology (BTEC 400)
Mathematics (MATH 110)
English (ENG 846)
College Success (COUN 100)
Spring Semester:
Students advance their skills in:
Biotechology (BTEC 170/171)
Mathematics (MATH 120)
English (ENG 100)
Intro to MS Office Suite (BCM 200)
Soft Skills (CRER 145)
Students will also complete a 75-hour internship with a biotechnology firm (COOP 670).
This material is based upon work supported by the National Science Foundation under Grant Number 1502042. Any opinions, findings and conclusions or recommendations expressed in this material are those of the author(s) and do not necessarily reflect the views of the National Science Foundation.