2020 Spring Musical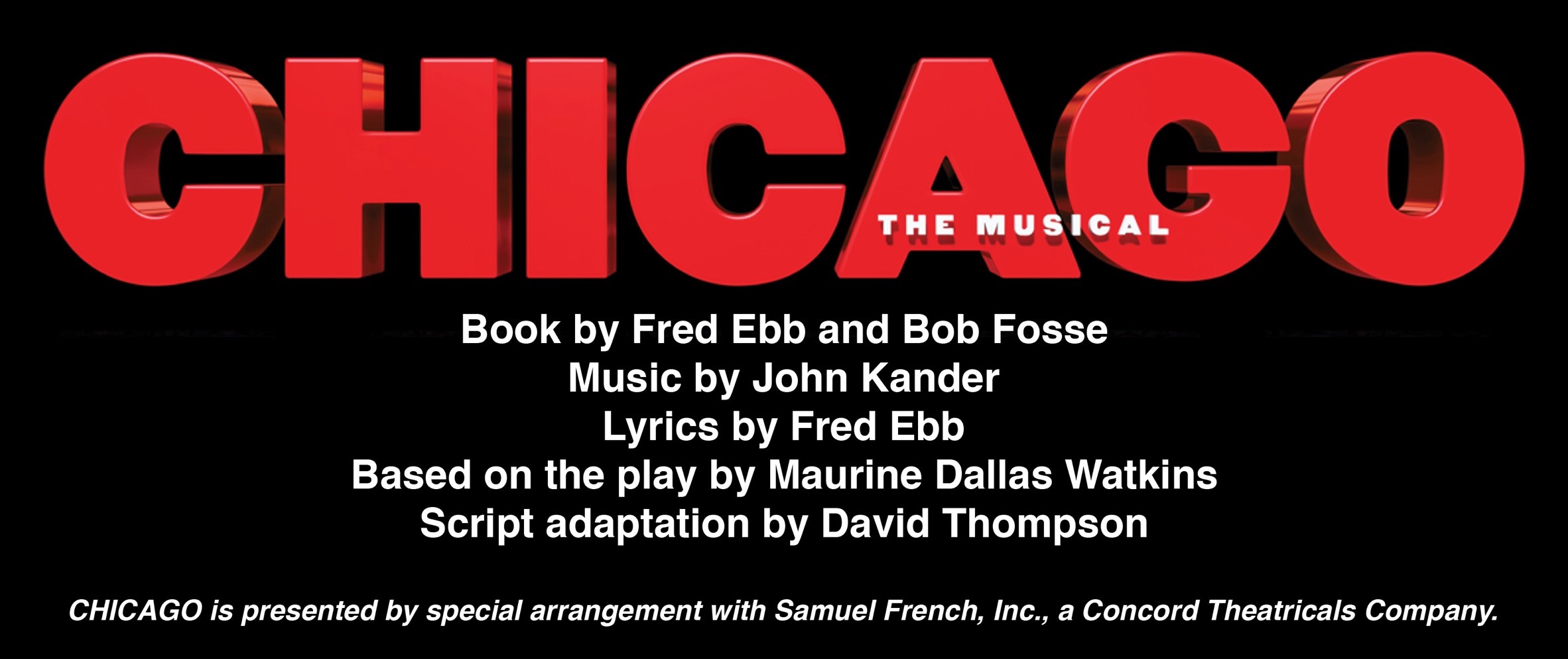 Picture the city of Chicago in the roaring twenties; Roxie Hart, a would be chorus girl, murders her lover then convinces her hapless husband Amos to take the rap...until he finds out he's been duped and turns on Roxie. Sent to prison while awaiting trial, Roxie and another "Merry Murderess", Velma Kelly, compete for headlines and sympathy of the public through the papers and their smooth talking attorney, Billy Flynn, ultimately joining forces in search of the "American Dream": fame, fortune and acquittal.
Performance Dates and Times
Friday April 17, 2020 at 7:30 p.m
Saturday April 18, 2020 at 7:30 p.m.
Sunday April 19, 2020 at 2 p.m.
Skyline College is pleased to announce our Spring 2020 production of CHICAGO, directed and choreographed by Gary D. Ferguson, Broadway performer and Skyline College Artist-In-Residence. Cast members must be registered in MUS. 410 and DANC 410 classes during the Spring 2020 semester to participate in this college production. CHICAGO will be fully staged and performed with a live pit orchestra in the Skyline College Theater.
Participating in the Spring Musical
Audition and Enrollment in Voice and Dance Classes
In addition to auditioning, students participating in Skyline College's production of CHICAGO must enroll in two classes at Skyline College for the Spring 2020 semester:
Mus. 410.1 AX (CRN 44465) Voice for the Musical Theater Production - 2 units
Dance 410.1 BX (CRN 44282) Dance for the Musical Theater Production - 2 units
Together, these classes meet on Tuesdays and Thursdays for the Spring semester from 12:30 – 4:30 p.m.
Auditions for principal and supporting roles have concluded, but there are still opportunities to participate.
Rehearsals and Performances
Regular rehearsals will take place during class times (12:30 - 4:30 p.m. on Tuesdays and Thursdays) starting on January 14, 2020.
Additional production rehearsals and performances outside of class times are required during April 2020 in the weeks leading up to the performances.
These production rehearsals and performance dates and times are MANDATORY for all participants.
(Note: All rehearsals except those listed below will take place during these class times.)
Monday 4/6 Tech Rehearsal & Cue to Cue Run-through; 12 noon start - end TBA (clear evening)
Tuesday 4/7 Sound Tech Run-through during class time; 12:30 - clear until 5:30 pm
Thursday 4/8 Dress Rehearsal Act 1 during class time; 12:30 a.m. - clear until 5:30 pm
Friday 4/9 Dress Rehearsal Act 2; 12:30 - 5:30 pm
Monday 4/13 Full Tech Rehearsal; Keep open 12:30- 5:30 pm
Tuesday 4/14 Sitzprobe 5-10 p.m. (Musical run-through with pit orchestra); Call at 5 pm for mics
Wednesday 4/15 Full Dress 1 Curtain 7:30 p.m; Call 5 p.m.
Thursday 4/16 Full Dress 2 Curtain 7:30 p.m; Call 5 p.m.
Friday 4/17 Performance 7:30 p.m.; Call 5 p.m. (LOBBY opens at 6; Theater Doors open at 7)
Saturday 4/18 Performance 7:30 p.m.; Call 5 p.m. (LOBBY opens at 6; Theater Doors open at 7)
Sunday 4/19 Performance 2 p.m.; Call 11:30 a.m. (Strike immediately afterwards until complete - bring work gloves and boots; approx. end 12 midnight) (LOBBY opens at 1; Theater Doors open at 1:30)
Friday 5/8 Skyline College Spring Dance Show; 12-4 p.m. and 5-10 p.m. (Shows at 2 and 7 p.m.)
For general information about the production or information about participating in the production (performing or assisting), contact:
For more information about playing in the pit band, contact:
For more information about working on technical production, contact: