Student Achievements
Justin Santos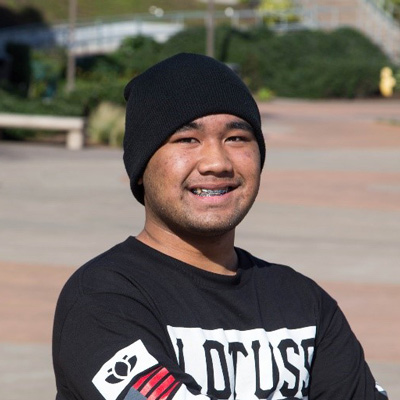 Completing an Internship at San Francisco International Airport
Out of 395 candidates applying for the Public Service Trainee Internship program at the San Francisco International Airport, Middle College at Skyline College student, Justin Santos was one of 15 chosen for summer 2016 program. According to Justin, "the person interviewing was impressed with my being in the Middle College at Skyline College." Once selected he was required to undergo FBI fingerprints and Transportation Security Administration clearance to determine eligibility for security clearance.
The main goal of the program is to provide youth the opportunity to gain essential work skills while learning about the wide variety of careers available at the Airport. Interns are also given the opportunity to attend tours of airport facilities, meet airport leadership, and participate in events aimed at professional development. The diverse career fields at the airport make the internship an excellent opportunity for career exposure. In addition to being provided with training, career clothing if needed, and BART and SamTrans tokens, interns benefited from the mentorship of diverse Airport Commission staff. Justin was placed in Airfield Operations, one of the security sections at the airport, where he was paired with an Airfield Safety Officer to ride along during security inspections, give airfield tours, monitor airport personnel, and look for security threats. Describing his summer experience, Justin said, "Everyone I worked with was awesome. They told me to be sure to have a passion for the job you want. You should be able to love your job so much that you want to come to work."
Alejandra Rodriguez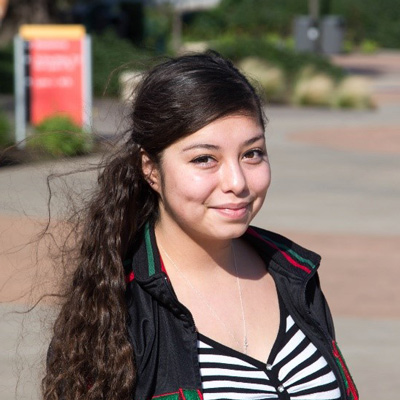 Battling for Justice in Washington D.C.
This summer, Middle College at Skyline College student Alejandra Rodriguez was invited with students from around the world to attend the National Student Leadership Conference Law & Advocacy's high school summer law program in Washington D.C. The program goals are to introduce students to the qualities and skills needed for effective leadership; and to expose students interested in law and advocacy to examine future career paths. Students use the courtroom as a classroom to assume the role of trial attorney and battle for justice. In addition, sightseeing and educational trips to the U.S. Supreme Court, U.S. Federal Courthouse, Smithsonian Institution, and Holocaust Memorial Museum gave the students the chance to explore the nation's capital.
Alejandra and her fellow high school students in the program met with leading trial, jury, forensic, and legal experts from top law firms, the Department of Justice, and the U.S. Court system. Students gained an understanding of homicide law and practiced courtroom techniques such as researching evidence, following evidentiary procedure, preparing and cross-examining witnesses, and crafting and delivering opening and closing statements. The students tried a mock-case in a real U.S. Federal courtroom with their performance determining the fate of the accused. Alejandra commented, "This experience confirmed why I want to be a civil justice lawyer."
Andrea Flores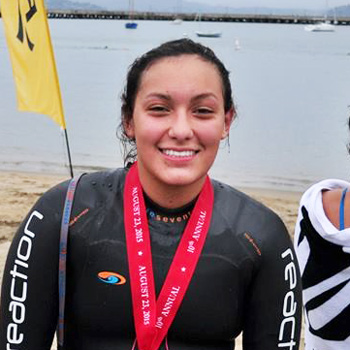 Swimming Across San Francisco Bay
On gray and murky morning, 16-year-old Middle College at Skyline College student Andrea Flores, along with fifty other swimmers from around the world, jumped into the San Francisco Bay to compete in the legendary Bridge to Bridge Race. The "open-water race" begins at the south tower of the Golden Gate Bridge and finishes at the Bay Bridge alpha tower. An open-water race has no lane lines, walls, or starting blocks to dictate what it takes to win. To complete the race, each swimmer must navigate the course against complex currents known to swirl in the bay. Andrea swam the 10K race in a time of 1:27:49, placing third in "female wetsuit category" against all-age women swimmers.
Andrea commented, "With stunning views of all San Francisco's great landmarks, I didn't want to miss out on this open water adventure!" To complete her "bucket list" she now has only to swim the English Channel and the Strait of Magellan between the tip of South America and Tierra del Fuego.