Meet the Faculty
---
Michelle Hawkins
Music Appreciation, History of Jazz, Vocal Jazz Ensemble Director, Concert Choir Director, Contemporary Singing Styles, Music Major Applied Lessons Coordinator
Michelle Hawkins is a choral director, arranger, and vocalist, and she directs the acclaimed vocal jazz ensemble, Soundscape, at Skyline College. Soundscape recently completed a performance tour to New York City (Apollo Theater and Carnegie Hall), and they performed at the 2018 ACDA Western Division Conference in Pasadena, CA. Her groups have won four Downbeat Music Awards for "Best Vocal Jazz Group" and have placed 1st at the Reno Jazz Festival and 2nd at the Monterey Next Generation Festival. Professor Hawkins also serves on the faculty of the Stanford Jazz Workshop (Palo Alto, CA) where she received the 2017 Outstanding Music Educator Award. She is an active choral clinician and adjudicator and serves as the Chair of Jazz Choir Repertoire and Resources for the California Choral Directors Association (CCDA) and the American Choral Directors Association (ACDA) Western Division. Professor Hawkins holds degrees from the University of Southern California (M.M. in Jazz Studies) and UC Berkeley (B.A. in Music).
---
Jude Navari
Music Theory, Musicianship, Music Fundamentals, Composition, Musical Theater Productions, Music Major Faculty Advisor
Jude Navari holds music composition degrees from the Eastman School of Music (B.M.) and University of California at Berkeley (M.A. and Ph.D.), where he also studied conducting with Marika Kuzma and Jung Ho Pak. At Skyline College, Jude teaches music theory, musicianship, class voice, class piano, and composition in addition to conducting the Skyline College Concert Choir and providing vocal music direction for the Spring Musical. He has also taught class piano and music theory at U.C. Berkeley, and over the past 20 years, he has conducted several Bay Area choral groups, including Sacramento Men's Chorus and Berkeley Opera Chorus. In 2008, Jude and his interdisciplinary performance art group, PlayWorks Productions, self-produced an evening of original art song, film, and dance theater at the NOHspace in San Francisco. In 2012, the professional choral ensemble Counterpoint performed an a cappella version of Jude's "Shouts and Cradle Songs" on several concerts throughout Vermont. Voci Women's Vocal Ensemble, which Jude directed from 1999-2013, performed his complete choral cycle "Siddhartha Fragments" on their 25th Anniversary concerts in April and May 2017.
---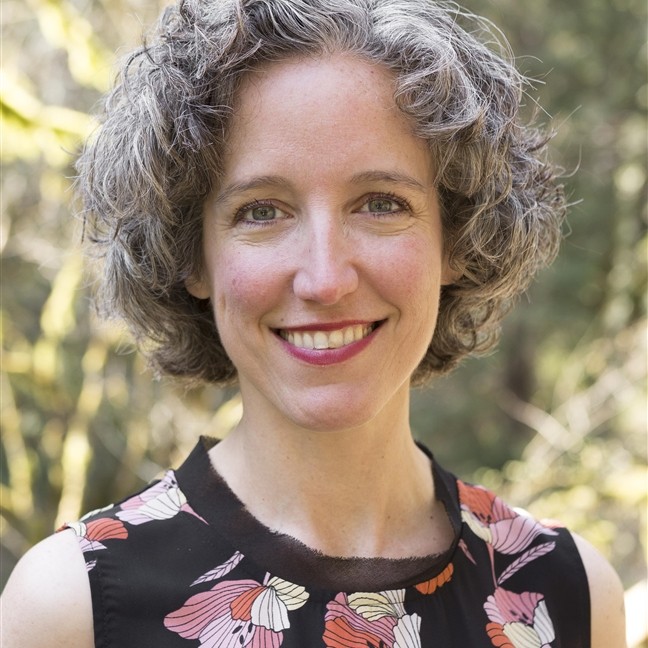 Meghan Dibble
Voice Class (all levels), Applied Private Lessons Voice, Music Appreciation, Music Fundamentals
Meghan Dibble has been teaching privately for over 25 years. She began teaching during her course work at California State University, East Bay focusing on college aged students who were interested in exploring their singing voice. While attending Northwestern University, where she received a master's degree in Vocal Performance and Literature, she specialized in vocal pedagogy with Karen Brunssen and worked at conferences with Richard Miller. Meghan currently teaches voice and piano at her private studio in Berkeley, Skyline College, and is professor of Vocal Pedagogy at the San Francisco Conservatory of Music. Meghan is a member of the San Francisco Bay Area Chapter of the National Association of Teachers of Singing (NATS). As a performer, Meghan has enjoyed singing a variety of operatic and musical theater roles as well as newly composed music by local composers. Some of her favorites productions have been with Pocket Opera (Merry Wives of Windsor, Madam Butterfly), Lamplighters Music Theatre (The Pirates of Penzance), San Luis Obispo Opera (The Pirates of Penzance), Redwood Symphony (Candide), Rimrock Opera (Le nozze di Figaro, Carmen), West Bay Opera (Cosi fan tutte), as well as The Witch (Into the Woods), Governess (The Queen of Spades), La Maestra delle Novizie (Suor Angelica), Rosine (Signor Deluso), Fidalma (Il matrimonio segreto), and Siebel (Faust). Meghan currently collaborate with Skyline collaborative pianist, Margaret Fondbertasse, as Katzenduo, a cabaret duo celebrating modern art song. In the moments away from music, Meghan is probably watching cat videos or working at her farm sanctuary, Herd & Flock, with her wife, Katie Dwight.
---
Margaret Fondbertasse
Staff Accompanist
Margaret has served as an accompanist for the Music Department since 2010. She assists the vocal, Concert Choir, Studio Lessons & Musical Theater classes and collaborates with students, whether in groups or independently, with supportive ensemble work. Prior to Skyline College, Margaret has held accompanist positions in various Bay Area schools, including the SF Conservatory of Music. Passionate about performing, she currently is the accompanist for the Peninsula Women's Chorus. She holds a Bachelor's degree in music from the University of California, Berkeley, and was a recipient of the Hertz Fellowship.
---
Elizabeth Ingber
Piano Class (all levels), Violin/Viola Class (all levels) and Applied (Private) Lessons Piano
Elizabeth Ingber is a pianist, violist, and violinist performing and teaching throughout the San Francisco Bay Area. She joined the Skyline College music department in 2006 and works with musicians of all ages through her private teaching studio. She currently performs in the Peninsula Symphony and Peninsula Scottish Fiddlers, and is active as a collaborative pianist and freelancer. As both a pianist and violist Ms. Ingber has been a member of the Chesapeake Chamber Orchestra, Columbia Orchestra, and Howard County Ballet Orchestra. Her performances have included chamber and orchestral concerts during summer seasons in Italy. Ms. Ingber received a Master of Music degree in piano accompanying from the San Francisco Conservatory of Music as a student of Timothy Bach. Prior to studying at the Conservatory she attended St. Mary's College of Maryland from which she graduated summa cum laude with a Bachelor of Arts degree in music, studying piano and viola, as well as mathematics. After completing her graduate studies she joined the accompanying staff for the collegiate and preparatory divisions of the San Francisco Conservatory of Music. Since completing her formal education she has regularly attended summer programs for both performance and pedagogy, including courses at Aspen Music Festival, Interlochen, and Suzuki Institutes.
---
---
Christopher Motter
Guitar Class (all levels)
Christopher Motter is a contemporary jazz guitarist with a career emphasis on education and performance. Mr. Motter received his first music degree from University of California Santa Cruz, where he was classically trained, before moving on to earn his Master's degree from San Jose State University in Jazz Studies. Christopher has an eclectic performance history throughout the Bay Area in a variety of different styles including, jazz, rock, country, and pop. Christopher Motter is currently a guitar performance instructor at The Harker School as well as Skyline College.