ESOL Lab
Resources Available to Students:
One-on-one assistance from ESOL tutors
Software applications that help you improve your understanding of English grammar
Conversation groups to help master your pronunciation and spoken language
Language Lab with voice recording capability
Academic Success Workshops on important study skills and parts of speech in English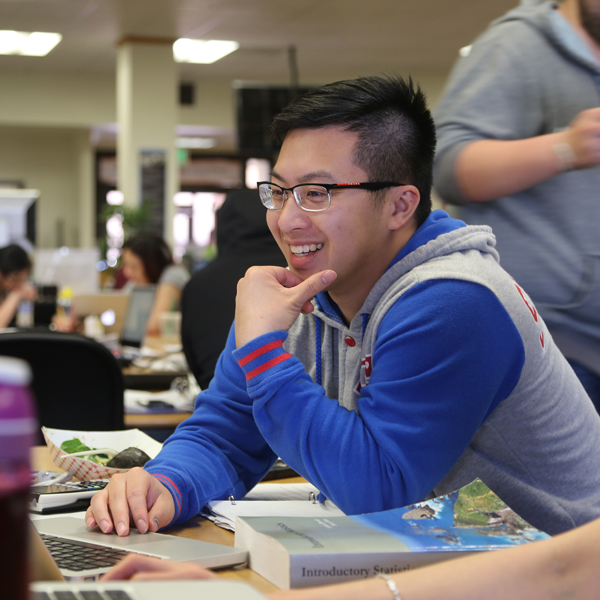 Language Sharing Groups in English Conversations Groups
Language Sharing Groups, such as the English-Spanish Conversation Group are designed to enable learners of English and other languages to practice their language skills with one another. The groups generally meet in The Learning Center. For more information regarding available groups this semester and meeting times, contact TLC staff in the ESOL or WRL Lab areas.
How Can I Make a Tutoring Appointment?
Students who are enrolled in a Learning Skills Class and wish to make a tutoring appointment should check the Tutor Schedule and make an appointment by following the steps below:
Go to WebSMART
Under "Student Services" click on "Schedule Appointment"
Click on "Make a Tutoring Appointment in the Learning Center/Check hours"
Click "Accudemia – Skyline College"
Schedule your appointment using the "Appointments" tab to the left of the screen
How Can I Gain Access to Tutoring Services at a Learning Center Lab?
Students who wish to use tutoring services at any Learning Center Lab must enroll in one Learning Skills (LSKL) Class. Learning Skills are not graded and students can choose between:
LSKL 803: A free, repeatable class with zero units that is non-degree applicable

Access to online tutoring services

LSKL 800: A pass/no pass class with your choice of 0.5 or 1.0 units of credit

0.5 units = approximately 1.5 hours per week spent using Learning Center resources
1.0 unit = approximately 3 hours per week spent using Learning Center resources
How Can I Enroll in a Learning Skills Class?
Students can sign up for LSKL 800 or LSKL 803 through WebSMART.