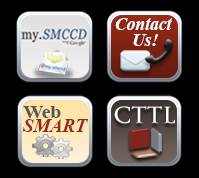 New Students
What should I know about Distance Education (DE) courses at Skyline College?
San Mateo County Community College District is committed to providing students and the community access to transfer education and workforce training through career/technical programs. Skyline College provides such access through our Distance Education program. Through Distance Education courses, all students will have access to earning associate degrees, credit for courses that satisfy transfer course requirements, and career/technical education. These courses are designed to give students greater freedom of scheduling, but they can require more self-discipline and require as much time and effort as on-campus classes. How well Distance Education courses fit into your educational goals depends on many factors.
For new or first-time DE students, please keep in mind the following:
Online courses are recommended for students who can work well independently and have solid study skills and self-discipline.
Online courses parallel the courses taught in the classroom and are transferable to most four-year colleges and universities.
Students enrolled in online courses have the same status as students enrolled in on-campus courses.
Online courses do require as much time and effort as on-campus classes; however, students have the ability to work according to their own schedule and are not required to come to campus as frequently.
Let's Get Started!
Steps
Action
Preparation

Is Online Education Right for Me?

Apply for Admission

Identify the program of study you are interested in (if you are undecided that is ok).
Identify your goals (if you are not sure that is ok).
Know your social security or student/F2 visa number.
Know your California residency start date.

Prepare for Online Learning

Find an Online Course




Waitlisted Classes

Join a waitlist if available. If a seat opens seven days or more before the class start date, the student highest on the list will be automatically enrolled, notified through email and an automated phone call. NOTE: Check your MySMCCD mail frequently!
If a seat opens seven or less days before the class start date, automated registration from the waitlist does not occur.
An instructor has the discretion to add a student and you will be contacted if an add is possible.
Pay the fees within 24 hours or you will be dropped for non-payment.

Enroll in an Online Course

Log into WebSmart to find your class.
Need enrollment help? Get it here 24/7!

Log Into Your Course and Check In

Log into WebAccess.
Select the course from the list of courses you are enrolled in.
You should check in to your class within the five days before and up to two days after the course starts.Failure to do so may result in a drop from the course.
Review the course syllabus and schedule. Introduce yourself to your instructor and ask questions.
Note that you will have to submit a Student Participation Agreement before continuing in the class.